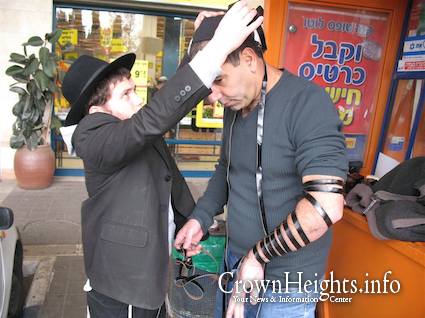 TZFAS, Israel [CHI] — Hatomim Elchanan Hacohen Cohen from New York – one of the Temimim from Yeshivas Tzeirei Hashluchim -Tzfas, on Rosh Chodesh Shvat reached a goal of 1000 Teffilin since the beginning of this year.

Last year Hatomim Yanky Bell from England started a Mivtza of spending every lunch break doing Mivtzoim. He would go out and put on Teffilin with local store owners, businessman and every place that Jews can be found. Of course this is besides the regular Friday Mivtzoim. Throughout the year they met hundreds of Jews and many of them cherished putting on Teffilin every day. Many of them understood on their own to take it upon themselves and let Yanky find other Jews who did not yet have the chance to put on Teffilin.
When the end of the year approached Hatomim Elchanan Cohen took this responsibility upon himself. And so everyday at lunch brake he would go out to do Mivtzoim. Every day he would write a cheshbon of how many Teffilin were put on. On Rosh Chodesh Shvat after finishing his daily route he was holding at a total of 999. During the day a local young teenager entered the Yeshiva and he remembered that he didn't have a chance to put on Teffilin today. Elchanan didn't think for a split second and jumped at the opportunity and finished off the day with a grand total of 1000 Teffilin!