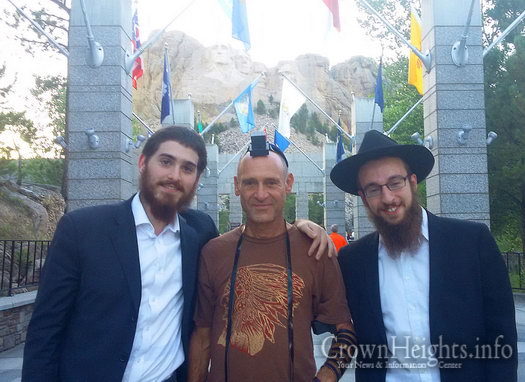 From the Capital Journal:
Tzvi Alperowitz, 20, of Great Britain and Mayer Brook, 19, of Brooklyn, New York, both rabbinical students, were in Rapid City early last week and in Pierre on Thursday. Along the way, they stopped at landmark South Dakota sights such as Mount Rushmore and the Capitol Dome.
The "Roving Rabbis" tour is sponsored by the Jewish outreach organization Chabad, and invites rabbinical students to go to areas where there aren't many Jews, to make contact. After Pierre, the next stops are Aberdeen, Watertown, Brookings and finally Sioux Falls.
Alperowitz explained the idea behind Roving Rabbis "That if there are some Jews, even living in some small communities … to reach out to them, if they just paid them a visit. To show them that there's always another Jew out there who's thinking of them," he said. "Maybe we'll be able to reconnect someone back to their own roots."
Brook said that in an earlier stop at Mount Rushmore, they met a California tourist who was in his 60s. He had never had a bar mitzvah — a coming-of-age ceremony held close to a youngster's 13th birthday. So they quickly had him put on tefillin — small boxes that contain the sacred scrolls and are worn during prayer — and did a quick ceremony. All three proudly posed for a picture, with the four heads in the background.
"He actually told us, when we met him. He said, 'I really needed that.'" Alperowitz said.