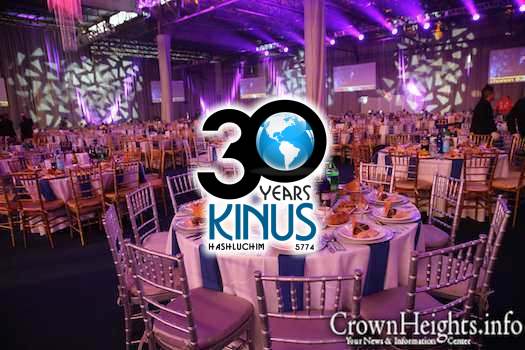 In an enormous shipping terminal-turned-ballroom at the mouth of the east river in Sunset Park, Brooklyn, over five thousand people sat down to an evening of elevation, inspiration and tribute – the annual International Conference of Chabad Emissaries.
CrownHeights.info will be live blogging the event from beginning to end, with regular updates from our corespondents at the banquet. To watch a live video of the banquet, click here.
5:00
The banquet got off to a lively – and on-time – start with a performance by Chasidic singing sensation Benny Friedman, accompanied by a live orchestra.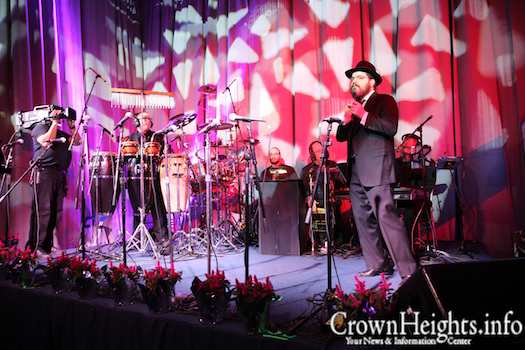 5:15
Rabbi Moshe Kotlarsky, Vice-Chairman of Merkos L'inyonei Chinuch and the evening's emcee, welcomed all the Shluchim who arrived from all over the world, along with their many guests.
He called upon Rabbi Ovadia Isakov, Shliach to Derbent, Russia who was wounded in an anti-Semitic shooting this past year, to read aloud the Rebbe's Kapital. Everyone rose and repeated after him word-for-word.
Rabbi Kotlarsky delivered a Dvar Torah based on the theme of this year's Kinus: Zorach Bachoshech Or – A light shone through the darkness. He announced two major initiatives to be undertaken this year: 1. As part of a global youth initiative, 200 new Shluchim will go out this year on Shlichus involving the education of children, teens and young adults. 2. This year every Shliach will take upon himself to reach 20 Jews in his community with whom he'd not yet been in touch, and every Shlucha will do the same with 20 Jewish women. "If you do the math, when this goal is achieved the Shluchim will have reached out to a million Jews worldwide," Rabbi Kotlarsky said to thunderous applause.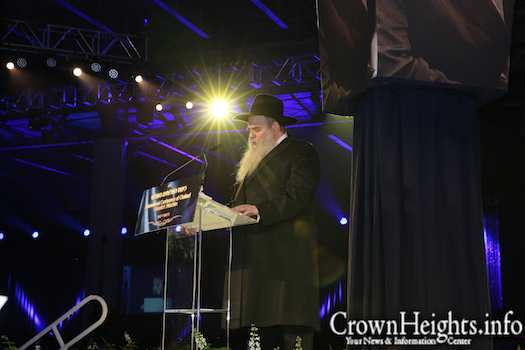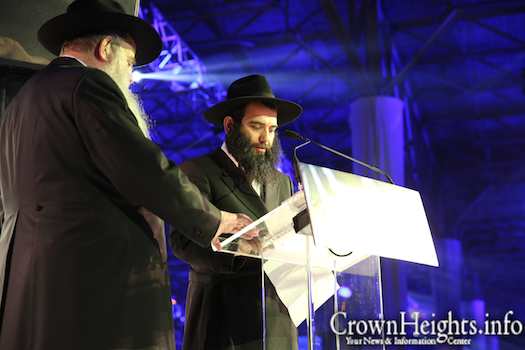 5:35
A Dvar Torah was delivered by Rabbi Mordechai Abergel, Shliach to Singapore.
5:47
A video of the Rebbe, produced especially for this year's Kinus by Jewish Educational Media, was presented.
6:00
The guest speaker of the evening, former U.S. Senator and Vice Presidential nominee Joseph Lieberman was introduced. A standing ovation greeted him as he stepped up to the podium. "I accept your nomination," he said with a smile, "and unlike the last one, this one won't end in a recount."
Mr. Lieberman spoke of his travels throughout the world as a delegate of the U.S. government, and wherever he went, Chabad was always there to make sure his Jewish needs were met.
When he was holed up in a Berlin hotel amid a massive demonstration against the war in Iraq by hundreds of thousands of protesters, a Chabad Shliach showed up at his door with Challahs and Kosher food for Shabbos.
When in Tashkent, Uzbekistan on his way to visit troops in Afghanistan, he was in need of a Minyan to say Kadish for his father's Yahrtzeit, but he thought there were no Jews in the country. Rabbi Yisroel Deren, Shliach to Connecticut, put the Senator in touch with Chabad of Uzbekistan, where he found a thriving Jewish community with a Jewish day school, a beautiful synagogue and a Minyan of 40 people Davening there.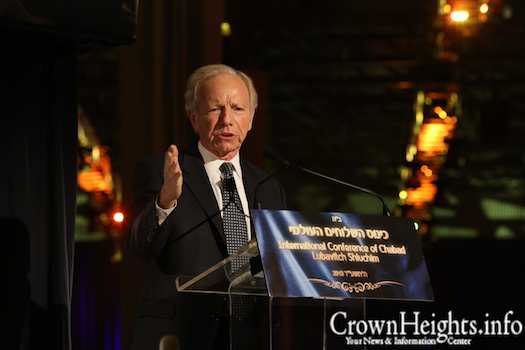 6:38
Benny Friedman performed a lively Niggun, accompanied by a choir of junior Shluchim from the children's Kinus program.
6:45
Dinner is served.
The Shluchim are treated to a mouth-watering entree of steak, fried chicken, potato kugel and green beans, followed by an assortment of pastries for dessert.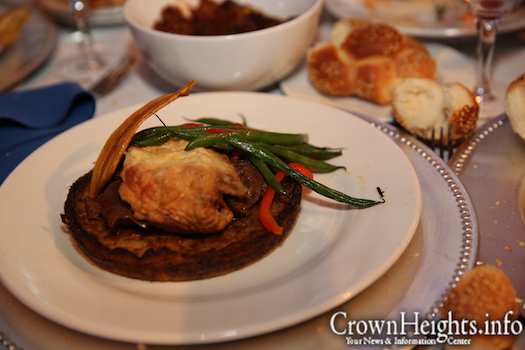 7:30
With a heavy heart, Rabbi Kotlarsky paid tribute to Shluchim who departed over the course of the past year.
Rabbi Kotlarsky also took a moment to give 'Hakoras Hatov' (appreciation) to the many who helped make this Kinus a reality.
7:40
The evening's keynote speaker, Rabbi Dov Greenberg, director of Chabad of Stanford University in California, took to the podium.
He compared the relationship between G-d and the Jewish people to that of a young shepard knocking on the door of his maiden, begging to be aloud to return ("Kol Dodi Dofek" – The sound of my beloved knocking), as described in Shir Hashirim.
He described in great detail how the Jewish people, the maiden, are returning to their father in heaven, the shepard.
Rabbi Greenberg described an article published in Look Magazine in the early 1960s titled 'The vanishing American Jew.' The magazine predicted that by the 21st century, there will be no Jews left in the country.
When it published that article, the magazine boasted a circulation of almost 8 million copies, but in the early 1970s the magazine went bankrupt and had to shut down; "and I hear," Rabbi Greenberg continued, "that Chabad of Midtown Manhattan is now looking to purchase their former headquarters."
8:15
Rabbi Kotlarsky began the 'Roll Call' by saluting the Shluchim to cyberspace, followed by the countries of the world in alphabetical order – from the Shluchim to Albania to the Shluchim to Vietnam.
At the conclusion of the Roll Call, the entire roomful of Shluchim and guests rose to their feet for several minutes of joyous singing and dancing.