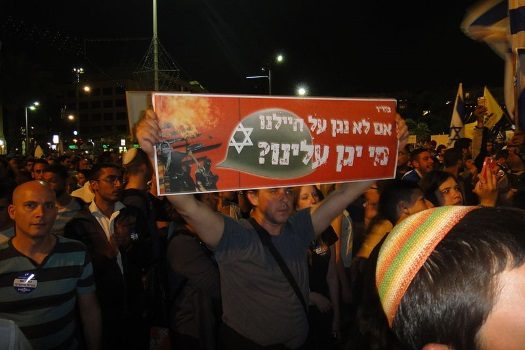 A demonstration in Tel Aviv on behalf of Elor Azaria
from The Jerusalem Post:
Shouts of "pardon him!" erupted from protesters outside a Tel Aviv military court on Tuesday where IDF solider Elor Azaria was sentenced to 18 months in jail for killing Palestinian terrorist Abdel Fatah al-Sharif in March 2015, as he lay immobilized in a Hebron street.
"His life is ruined!" said Sigal Cohen, 48, who was protesting in support of Azaria. "This boy is a solider, who was doing his job. He is our son, every mother should feel that. We are not going to swallow this. We are going to flip the government."
Azaria's defense has vowed to appeal the ruling, and had previously urged the court to delay the beginning of the sentence until an appeal is submitted. Azaria's representation requested 15 days to submit the main claims of an appeal.