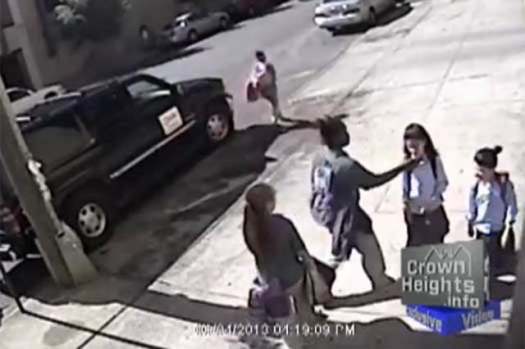 Illustration photo
According to a report by the Anti Defamation League, attacks on Jewish residents in New York City tripled in 2013 over the previous year.
The ADL tallied just six hate attacks against Jews in the city in 2012. That number spiked to 22 in 2013, though they are at a loss to explain the cause.
Interestingly, despite the increase in physical attacks, the number of overall anti-Semitic incidents — everything from hateful graffiti to vandalism and harassment — fell last year in New York and across the country.
"The increase in knockout attacks, which typically involve sucker punches to an unsuspecting victim's head, may be attributed to the amount of knockout videos that were posted on social media sites," the ADL's  Evan Bernstein told the New York Daily News.
Easily identifiable Orthodox Jews in Crown Heights and other parts of Brooklyn were often the victims of these sick stunts.
They ranged in age from a 12-year-old girl who was punched in the back of the head near Kingston Ave. to a 78-year-old Jewish woman who was punched in the face by a group of teens.
The bottom line is that Jews were targeted because they were Jews," Bernstein said. "With the advent of social media, the game picked up speed last year."
Nationwide, the ADL counted 751 anti-Semitic incidents in 2013 — a 19 percent decline from 2012.
"We are pleased to see a decrease in the overall number of anti-Semitic incidents," Bernstein said. "However, the rise of assaults in certain areas of New York City — in particular Brooklyn — is both disturbing and a sobering reminder that anti-Semitism is not just history but remains a current event."