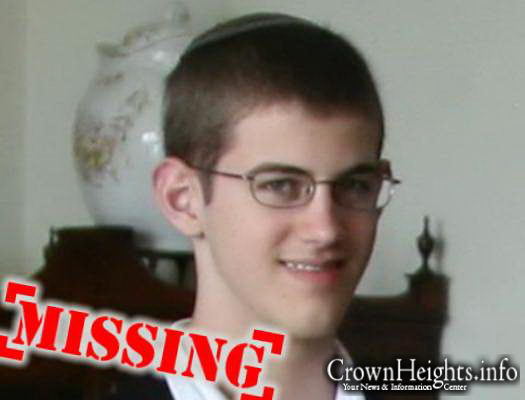 Nearly 48 hours after the disappearance of a sixteen year old Massachusetts teen, community members have joined police in an organized search for the missing 11th grader.
Caleb Jacoby, son of Boston Globe columnist Jeff Jacoby, was last seen Monday afternoon at approximately 12:30 PM.  A student at Maimonides School, Caleb is described as 5'11, weighing 140 pounds and was wearing glasses, navy chino pants, a navy polo short, a brown hooded winter coat, white socks and brown shoes or sneakers at the time of his disappearance.
According to the school's Facebook page, volunteers age 18 and up were requested to come to Maimonides this morning for a search to begin after shachris this morning.
"We need people to search, to get his picture out and to hang flyers," Efrat Lipshitz, one of Caleb's teachers at Maimonides told VIN News, adding that Caleb was not in school on Monday, the day of his disappearance.
According to Brookline Police, no foul play is suspected at this time.
"He could be either missing or a runaway," said Captain Thomas Keaveney of the Brookline Police Department's Community Services Division.  "It doesn't matter what term you use, the key is that we don't suspect any foul play."
Jeff Jacoby expressed his appreciation for the outpouring of support following Caleb's disappearance last night tweeting, "We are so deeply, deeply grateful for everything being done to reunite us with our beloved son Caleb."
Caleb, a Brookline Village resident, is known to frequent libraries and the Young Israel of Brookline.  The public is asked to daven for the safe return of Calev Avraham ben Elisheva.
Anyone with any information about Caleb's whereabouts is asked to call the Brookline police at 617-730-2222.
UPDATE [9:00pm]:
The Yeshiva World News has reported that the missing teenager has been found.
As per the Brookline, MA Police Department, 16-year-old Caleb Jacoby has Boruch hashem been found in New York City. He is reportedly "safe and well". Caleb went missing from Brookline on Monday.
Jeff Jacoby just tweeted out: Words can't express our gratitude for the extraordinary outpouring of kindness and support that we have received from so many people.
Jacoby, 16, of Brookline, had been missing since 12:30 p.m. on Monday. He is an 11th grader at the Maimonides School, a Jewish day school in Brookline. Jacoby is the son of Boston Globe columnist Jeff Jacoby. His disappearance had sparked a large community response, with more than 200 volunteers searching for himthroughout the Boston area.
The Brookline Police announced via twitter just before 9 p.m., "Caleb Jacoby has been found. Safe and well." The police said more information will follow as details become available.
They released a statement on their blog:
The Brookline Police Department is happy to report 16 year old, Caleb Jacoby, reported missing since January 6th, and has been found. The Brookline Police, working with many other agencies over the past few days were able to provide information to the New York City Police Department that Caleb Jacoby may be in the area of Times Square. Based upon this information at approximately 9PM New York City Police informed us they had located Caleb and he was safe and sound. Plans are now being formulated to transport Caleb back home. Thanks to all agencies that helped in this investigation. Also thanks to all those who took to social media to help get the story out.