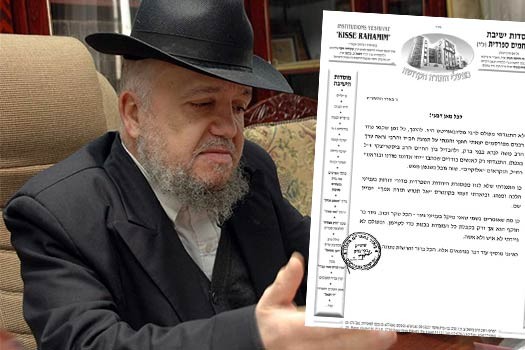 Following shock and public outcry over comments made by Rabbi Meir Mazuz, he issued a clarification letter saying that his comments were taken out of context and that he was only referring to the extremist Mishchistim known as Elokistim.
Rabbi Mazuz, who is the spiritual leader of the Yachad party, issued a clarification letter in response to the recording in which he is heard speaking against Chabad with very harsh words.
Rabbi Mazuz was answering an interviewer's question who had asked his opinion on Sephardic students adopting Chabad customs. Rabbi Mazuz feels passionately that they keep their own traditions. "I opposed the move from Sephardic tradition in matters of Jewish law and custom" he writes in the letter.
Rabbi Mazuz continues to explain his other comments on the recording. He writes he was not referring to Chabad in general but only to the fringe group known as the 'Elokistim' – "Those few who say Long live our teacher our Lord Creator" in reference to the Rebbe Ch'v.
"On the contrary" he writes "I defended Chabad and the Rebbe from famous rabbis who opposed him [the Rebbe]." He mentions some instances' where he came to Chabad's defense.
He then responded to critics who have charged that he is too lenient in regards to Jewish conversion. "What they are saying in my name is all false. Proper conversion can only be with the acceptance of all the Mitzvos." Rabbi Mazuz also points out that he "never converted anyone, nor a man nor woman".