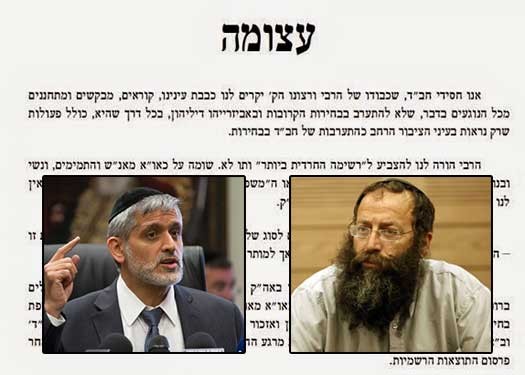 With the fast approaching deadline to submit a party list for the upcoming Knesset elections, and a record high voter base needed to be elected. Pressure has been mounting on two small right wing parties to join forces.
At least two members of the official Beth Din of Chabad in Israel known as Vaad Rabonei Chabad, met with Rabbi Meir Mazuz and former interior minister Eli Yishei, the spiritual and political leaders of the 'Yachad' party respectively, to convince them to work together with the Utzma L'Yisrael party.
However a letter has been circulating among Chabad of Israel, calling on the Beth Din to mix out of politics. The unsigned letter attacks the Beth Din without mentioning it by name explicitly. "We beg and plead to all involved not to mix into the upcoming elections in any way shape or form" reads the letter.
Chabad has always been a non political organization. The Rebbe as a rule, never allowed anyone to represent Chabad in politics, however he did encourage people to exercise their right to vote.
This incident is reminiscent of Benjamin Netanyahu's first run for office in 1996. Some Chabad organization including the Beth Din openly endorsed Netanyahu for prime minister. Netanyahu eventually beat Shimon Peres by less than one percentage point. Netanyahu who ran on a right wing platform later betrayed Chabad and surrendered the holy city of Chevron to Yasir Arafat.
This hard learnt lesson is still felt within Chabad and any official political involvement is deeply rejected.
In response to media questions Rabbi Moshe Havlin confirmed the meeting but added "The Beth Din was not identifying with any political party [The meeting was] from a genuine concern of losing right wing votes".
Beth Din supporters point out that the Rebbe held meetings with many political figures yet still remained above politics. Furthermore they mention that Rabbi Eliezer Mizrachi who is a Chabad Chasid was elected to the Knesset in 1989 with no objection from the Rebbe. "He just wasn't officially representing Chabad per se."
The 'Yachad' party and 'Utzma L'Yisrael' ultimately reached an agreement. They gave the right wing activist Baruch Marzel the fourth seat in the party roster.
The now merged party, receives four to five seats in recent polls.