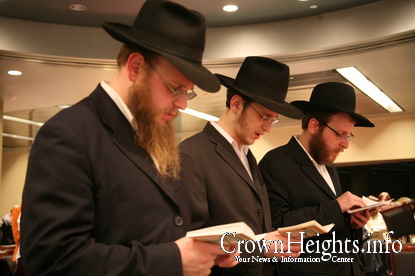 At 7:00pm last night, a hatcholas sefer torah l'iluy nishmas R. Gedaliah Yerachmiel ben Michel (Shaffer) was held on the second floor of the Jewish Children's Museum. Family members and close friends participated in writing the first few pesukim of B'raishis on a chelek of klaf honoring a man whose whole life was devoted to and imbued with Torah.
More pictures in the Extended Article.

At 8:00pm, Yosef Shaffer started the siyum of meseches moed katan, (the mesechta that Gedaliah Shaffer was in middle of learning) and chazered a part of a maamer from the Rebbe. As the room filled up with people who relate to Gedaliah Shaffer as "a teacher", "a mentor", "a friend", Eli Slavin, the MC, introduced in turn Dr. Yaakov Marsh, a fellow student at MIT, Dr. Jack Shershaw, a man of science who refers to Gedaliah Shaffer as the person who brought him to yiddishkeit, Rabbi Kasriel Kastel, a friend from the "old days" in Boston, Dr. Eli Rosen, a close friend and chavrusa, Dr. Sylvan Cappell, a colleague from university and finally, Rabbi Michoel Seligson, a neighbor and close family friend.
Doron Slutzkin (represented by Yehuda Goldman), Rabbi Ephraim Simon, and Yehuda Goldman, eidim of Gedaliah Shaffer, spoke about their personal relationships with him and the effect he had and continues to have on the family and klal yisroel.
Yosef Shaffer concluded the program by thanking everyone involved in offering support, care and love. He said that the a question that people ask – which in and of itself is a nechama – is, "what can we do?" Although the correct derech in such circumstances is not to be angry or have taanis to Hashem, the Rebbe said that sometimes taanis – when they come from a bituldike and emunahdik place – are correct and necessary. So the answer to "what can we do?" is to shout " Ad Mosai!" and to be really seriously, actively involved in bringing Moshiach, where the neshama will have the greatest aliya yet – a yerida to a Moshiachdike velt.