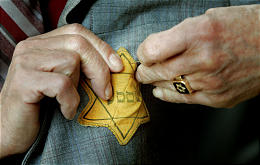 Deseret News
Holocaust survivor Jerry Meents pins on the
original Star of David he wore as a 12-year-old boy
in Amsterdam in 1942.
Salt Lake City, UT — Wearing the same faded Star of David that identified him as a Jew under the Nazi regime, Jerry Meents, 76, recalled his last day at school.
Meents, who escaped the roundups of Jews in Holland because he was considered half-Jewish, had been allowed to remove the star and attend school. While playing during a recess, he saw an elderly Jewish woman hauled away on a stretcher.
"One boy, 12 or 13, started laughing," he recalled, "He thought it was great that they took an old Jew away. I got mad, I got very mad and beat the hell out of him. I went home and never went back to school."

Meents attended the state's Holocaust Memorial Commemoration at the Salt Lake City Main Library on Friday to remember the 6 million Jews and 5 million others who were murdered in Europe under the Nazi regime from 1933 to 1945.
Along with those who lost their lives, Holocaust survivors, witnesses and American and Russian veterans of World War II were recognized.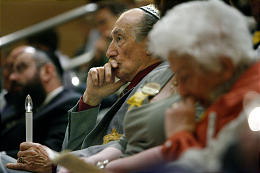 Meents, center, and others reflect during the Holocaust
Memorial Commemoration at the Salt Lake City Main
Library on Friday.
"Today we remember and we don't tire," said Rabbi Benny Zippel of Bais Menachem/Chabad. "Who of us will forget 9/11, when 3,000 people were murdered on one single day. During the Holocaust on average 3,000 people were murdered every day, 365 days a year for five-and-a-half years."
Rep. David Litvack, D-Salt Lake, read resolutions declaring April 15-21 "Days of Remembrance" by Gov. Jon Huntsman Jr. and Salt Lake County Mayor Peter Corroon. Sunday is the national Holocaust Remembrance Day.
Litvack pointed to the genocide in Darfur and other instances since the Holocaust as a need for a focus on human rights in legislation, saying lawmakers should act to build "understand and respect, not in ways that tear down individual lives."
Rabbi Tracee Rosen of Congregation Kol Ami said Jews during the Holocaust refused to give up hope, just as they refused when enslaved in biblical Egypt.
It was the murder of children, she said, that revealed the Nazis' goal of "zapping people of any lingering hope." But the Jews refused to give in, and mothers bravely continued to give birth, even as they were murdered along with their children.
"I am comforted by the knowledge that we too maintain our hope that we survive," she said. "That future generations of children will survive and be taught to avoid the sins and the errors of the past. And that with hope will pass onto their children and their children's children the lessons of the past."