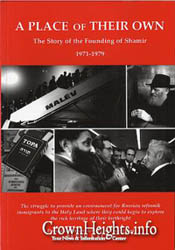 Practical advice given by the Lubavitcher Rebbe in helping young people arriving in Israel from the Soviet Union in the 70's. Mostly university graduates but without any traditional Jewish knowledge they required a fresh psychological and sociological programme under their own control and not identified with any political party. Only this way, when they could be recognised, welcomed and respected with time and opportunity to adjust could they begin to bring their special contribution of idealism and intellectual vigour to Israeli Society. Based on original records of meetings at the highest level of the Israeli political establishment this book tells the story how the organisation SHAMIR founded by Peter Kalms with the invaluable commitment of Professor Herman Branover was able to significantly alter the outdated bureaucratic immigration policies which had initially led to hostility and even re-emigration.

Advance praise from scholars and politicians:
From Natan Sharansky "A PLACE OF THEIR OWN captures the excitement of the early years of the idealistic academic refuseniks who rediscovered their Jewish heritage, kept from them by the Communist machine. It tells how Peter Kalms and Professor Herman Branover founded SHAMIR to provide a home in Israel for the immigrants from the USSR to continue their quest. I believe in the continuation of this great story.
From Chief Rabbi Sir Jonathan Sacks ' In "A PLACE OF THEIR OWN' Peter Kalms has written an enthralling story of his work, with Professor Herman Branover, to help Russian immigrants to Israel to rebuild their lives in a new home, physical and spiritual. Above all, it is a story of the towering leadership of the Lubavitcher Rebbe, and should be read by all who seek to understand the impact he made on the Jewish world.
From Rabbi Adin Steinsaltz 'This small book 'A PLACE OF THEIR OWN' is a fruitful description of a special piece of recent Jewish history. In spite of limited resources and some initial political obstacles the work of Shamir was an important beginning, and a trigger for many successful later achievements Peter Kalms, in his usual form, does not emphasize his own multiple role in its creation, but even with this omission the book is a solid ground stone for the full story of the revival of the Jewishness of Russian Jewry'