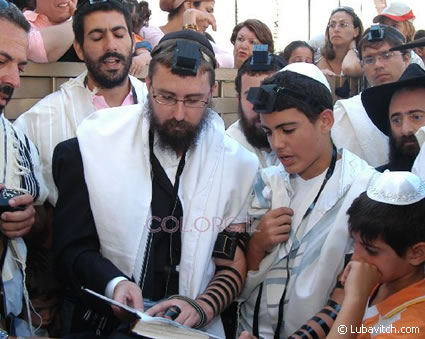 Baila Olidort – Lubavitch.com
Few Israelis, even those whose family and friends have been spared the ravages of this war, remain unaffected. Sooner or later, everyone begins to feel the stress: the constant death announcements, the funeral notices, the shiva calls…

In all cases, lives are turned upside down. Without a groom, there can be no wedding. Without a father, what kind of bar mitzvah can a boy have? Once in a while, however, the grief is punctuated by moments of bittersweet joy.
When Nadav Elharar wrapped the tefillin round his arm at Jerusalem's Wailing Wall, the sobbing was uncontrollable. Still in the midst of mourning, the tragedy hit the family hardest here, on the day of Nadav's bar mitzvah. Nadav Elharar was three weeks short of his bar mitzvah celebration when his father, Nissim, an administrator at the Haifa train maintenance depot, was killed by a Hezbollah rocket. Overwhelmed by grief, Nadav's mother, cancelled the bar mitzvah. "Now there'll be no one to come up to the Torah with me when I am called for an aliyah," Nadav cried at his father's funeral.
But there was. Between Chabad's Rabbi Shlomo Chaim Diskin, the representative to the Elharar's hometown, and Rabbi Menachem Kutner, Chabad's Terror Victims Program Director, Nadav had a beautiful bar mitzvah. "I told Orly that all she had to do was give us the OK, and we'll take care of the entire bar mitzvah," says Rabbi Kutner. "You'll come to a ready event," he promised Orly.
And Chabad delivered. After Nadav put on tefillin and was called up to the Torah, friends and family danced. A beautiful dinner followed at a Jerusalem hotel, where 150 participated in this bittersweet event.
His father was painfully absent. "Nadav and his father were best buddies," said Orly. "They did everything together." Still raw with grief, the family tried hard to filter the pain. They expressed profound appreciation to Chabad for not allowing Nadav's bar mitzvah to go unmarked, and pass in grief. "Today I have come to understand what Chabad is all about, and what an important organization it is," said Orly, visibly moved by the power of goodness that made this happen. "Rabbi Diskin has been with us from the beginning, giving us unconditional love and caring," she said.
Kiryat Ata's Mayor Yakov Peretz, a friend of Nadav's father, presented the Bar Mitzvah boy with a gift of Ethics of The Fathers. He urged him to learn the ethics so he'll come to emulate his father's sterling character. Then he thanked Chabad. "There are several families in our community that are survivors of terror," he told the guests. "And Chabad has been there with them not only during the first weeks of the tragedy, not only during the first year of the tragedy. Chabad is there consistently, at every holiday, during every one of the family's life-cycle events."
With gifts for each of the children—a high-end bike for the Nadav, a sophisticated jeep for his younger brother, and a heart-shaped mirror for his sister, Chabad tried to make the day a good one, at least one the children will remember warmly. "It's a very difficult situation," admits Chabad's Rabbi Menachem Kutner. "But the idea that Nadav's bar mitzvah would just pass unnoticed, would only deepen his grief and enlarge the tragedy."