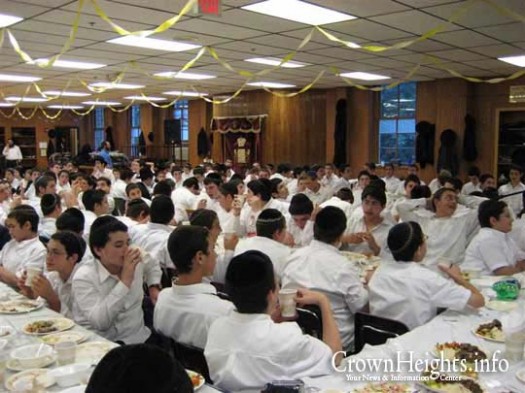 Morristown, NJ — One hundred and sixty five talmidim eagerly gathered outside the Beis Medrash of the Rabbinical College, waiting to enter the lavishly decorated Zal for the Siyum HaRambam, marking the simultaneous siyum of both the 3 Prokim and 1 Perek cycles of Rambam. The doors opened, and the wave of excited Talmidim rushed into heavily advertised and anticipated event.
As the Talmidim sat to enjoy the first part of the 3 course meal, Rabbi Chaim Dovid Janowski, who gives a daily Shiur in Perek Echad in YSP made a Siyum on the Rambam. He then held a grand raffle for the 80 daily participants of the Rambam Shiur. A Palm PDA loaded with Rambam and other goodies as well as a set of Rambam was raffled off. Then Talmid Chanoch Weinberg of Johannesburg South Africa started the 25th Cycle of the Rambam.
More in the Extended Article!

After dinner, guest speaker Rabbi Simi Morgenstern, a Shliach in Houston Texas, addressed YSP, entertaining the Talmidim with a moving message interspersed with inspiring stories. He was followed by Rabbi Y. Bendet, who spoke about the importance of learning Rambam, explaining how much the Rebbe cherished the learning of Rambam by his Chassidim.
Afterwards, a video of the Rebbe, specially prepared for the evening was shown. Then the highlight of the night began, as the Talmidim broke out into spirited dancing and singing, which lasted over 45 minutes.
As the Talmidim exited they were given a special memento- a Moreh Shiur- a schedule in daily Rambam learning for the upcoming year. This amazing event is sure to be remembered by all who participated.
May we all participate in next years Siyum Harambam together in Yerushalayim.