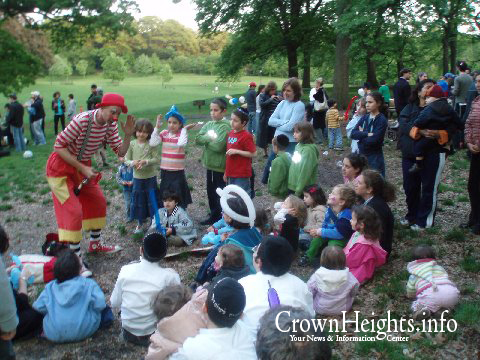 A mesmerizing clown show!
On Tuesday, March 16, the Picnic House entrance of Prospect Park was transformed into one big, happy Lag Ba'Omer celebration. Congregation B'nai Jacob, Chabad of Park Slope and Chai Tots Pre-School – a division of NCFJE, invited the entire Brownstone Brooklyn Jewish Community to a Lag Ba'Omer celebration. This exciting outdoor event attracted more than 200 people from the Brownstone Brooklyn community.

The celebrants were treated to a variety of special activities that the children – both young and old – were unsure of what to do first. There was entertainment for everyone! Children were treated to horse and pony rides, clown and balloon sculptor, face painting, the CBJ live musical band, grand ball game and races, and to top it all off… an abundance of delicious barbecued food!
The atmosphere among the happy people at Prospect Park was one of great energy and spirit. They were not just learning about the lesson of Lag Ba'Omer to "Love your fellow man like yourself," but were living it. Most of the celebrants couldn't leave the warm and festive celebration and stayed on until it was too dark to see one another anymore in the park.
As Rabbi Shimon Hecht, the Director of Chabad of Brownstone Brooklyn commented, "This Lag Ba'Omer, Prospect Park saw a really great and unifying community event, one that brought people from all synagogue affiliations together." It was definitely a day that personified Rabbi Shimon Ben Yochai's message. It was a day of great love and joy amongst the Jewish people!
The smallest members of the CBJ band!!