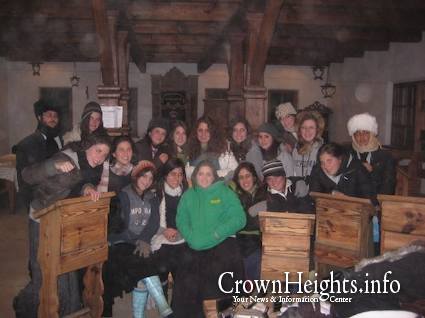 by Dina Eliezrie
KIEV, Ukraine — Many times in life you may find yourself with opportunities that spark your interest. When a spiritual pilgrimage to Ukraine was presented to our school, the response was filled with enthusiasm and excitement. This trip would include a variety of Lubavitch girls from all corners of the earth and together returning to their Chassidic roots. The trip too, would consist of visits to all the holy Tzadikim from the small city of Haditch, Kiev, and the small town of Mezibush, the resting place and synagogue of Rabbi Israel Baal Shem Tov.

To qualify for this trek, we needed to increase our studies and deeds. About half the students qualified after excelling in a rigorous program. This included a extra hours of Torah study and a commitment on a personal level to daily davening, including morning, afternoon, and evening prayers. In doing these things we prepared ourselves for the holiness we were about to encounter. We looked forward to traveling to see our roots and went to see how Rebbeim and holy Tzaddikim changed Judaism for eternity.
As we landed in Ukraine, the inspiration started immediately. While waiting in the airport in Ukraine, we began to study the teachings of the Alter Rebbe, the great scholar who wrote the Tanya and thus prepared ourselves spiritually and mentally to go see the area. After 5 hours of traveling we arrived in a small city called Haditch. The Alter Rebbe had passed away nearby in 1812 fleeing from Napoleon's invasion of Russia.
It was as if we had taken a time machine back two centuries. There as we walked through the 25-below-degree weather we imagined the life of an everyday chassid, a follower of the Rebbe, hundreds of years ago. It opened our eyes to see the mesirat nefesh, self-sacrifice, that the Chassidim in that generation had. Walking into the main hall we saw many people, observant and non-observant, standing together commemorating the Yahrtzeit of a man who uplifted our generation and the generations to follow.
Standing in front of his tombstone in this holy site, many things came to mind. Who am I in this world? So small in the big scheme of things yet G-d, Hashem, has chosen me to be here on this day, at this specific time and now what do I do? This question as an impressionable young woman comes up quite often. So, yes, I have the things I need in life as far as material that is, but really what is my purpose here, and how do I reach my fullest potential? The Alter Rebbe, along with the other Rebbeim we saw in Ukraine, instilled in us that as Jews and as moral people that we have the ability to transform ourselves, imbuing our lives with holiness and purpose. To educate others in the ideals of the Torah. Even though we are just one person, it's up to us to use the teachings of these powerful and holy individuals to empower us to live life with greater meaning and to spread the light of Torah to every Jew. Although at times we may personally feel insignificant with regard to our place in the world, the truth is that we have an unbelievable power to make the world a better place.
Dina Eliezrie is a graduate of the Hebrew Academy who is studying this year at a seminary in Israel. As part of the their academic efforts to gain a greater appreciation of the teachings of the great Chassidic Rebbes, in particular Rabbi Schneur Zalmen of Liadi-The Alter Rebbe, founder of Chabad and the holy Rabbi Israel Baal Shem Tov, they traveled to Ukraine to the resting places of these rebbes. Jewish tradition teaches us that there is great merit to pray at the graves of the holy. Dina is the daughter of Rabbi David Eliezrie, who has relinquished his space this month in order to present this view from a student, and Stella Eliezrie.