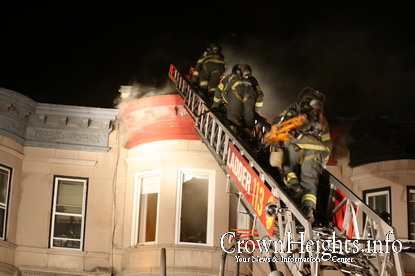 Crown Heights, Brooklyn – At around 4:50am this morning a fire broke out at 362 New York Ave. between Carroll and President, on the second floor of the two family house. The first floor housed a Kloister and the second floor was the living quarters. All resident made their way out of the burning house without sustaining any injuries.
More pictures in the Extended Article.

FDNY responded and were on scene moments from when the fire was reported to 911, and had the fire under control nearly as soon as they got there. One firefighter was injured while battling the fire and was transported to Kings County Hospital for treatment.