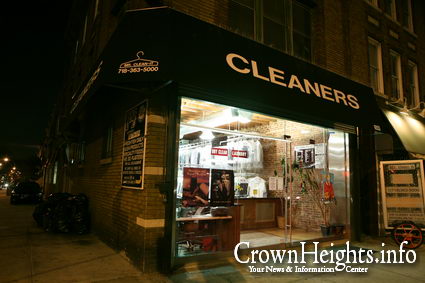 by: Jen Epstein
CROWN HEIGHTS, Brooklyn [CHI] — When I first started coming to Crown Height from my place in Park Slope, I figured I'd get my religious items and keep going. After all, what else could I need in the hood? But then I discovered stores that totally changed my view.
More in the Extended Article!

Amidst the hustle of the hip corner of Albany Avenue I discovered Mr. Greens, a store that would fit right in to Soho. Fresh produce, delicious juices and the manager Shmuly. Who can ask for more? Then I found that incredible flower shop with gifts everyone loves (including me-I treat myself now and then!)
Now I've discovered a store that I haven't found anywhere else. It's a customers dream. A place where service and convenience meet in a fantastic store that will truly change your dry cleaning experience. I'm talking of course about "Mr. Clean", the dry cleaners located on the corner of Albany Avenue and Union Street in Crown Heights.
I know, I know, you are now thinking about the big bald guy on the yellow cleanser bottle, right? I too used to think a cleaner's was just a cleaners, but these guys have me thinking otherwise. The guys who run this place didn't forget anything from the floor to ceiling, a glass store front that makes the store bright and airy, to the clean and newly renovated store with pleasant employees.
They also offer customer service that will amaze you. I'm not only talking about the fact that they only use organic products to dry clean your clothing, they offer pick-up and delivery service! They even put collar stays into your collar and cuff links into your cuff link holes!
For the guy who is always in a rush, they will keep your credit card on file and have a special VIP rack for privileged customers where you can just grab your things and run.
You'd think that for all this the prices would be high, but they are right in line with all the other cleaners in the area. And, they have the coolest delivery bike ever!! I'm sure people get their stuff delivered sometimes just to watch it pull up!! You've got to check it out.