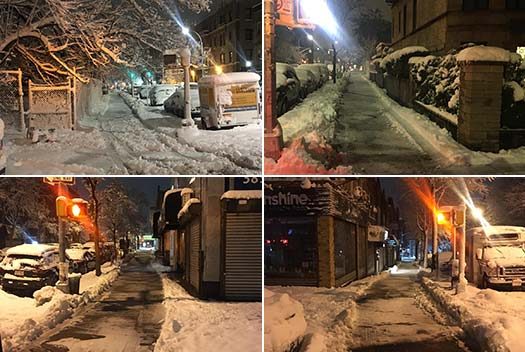 Over a foot of thick and heavy snow greeting New Yorkers on the first day of spring, and after a steady snowfall throughout the day many residents and neighborhood merchants awoke to find that many of the avenues' sidewalks were already plowed.
by CrownHeights.info
When Zalman Raksin, owner of Post-Mark It on Kingston Avenue, arrived at work early Thursday morning he realized that many of the sidewalks were already cleared. "I had no idea who did it, but I will say that it was a very kind and thoughtful gesture," he said.
Expecting a difficult walk to work, Raksin and many other neighborhood residents were instead greeted with the sight of many sidewalks having already been cleared.
Behind this "stunt" – as he called it – was local resident and business owner Aron Hershkop, who spent part of his early morning behind the wheel of his plow truck and cleared many of the sidewalks before most of the neighborhood awoke.
"It's about time we start recognizing each other and removing the divisions and go back to the beginnings of civilization," Hershkop said, "[as a community] let's get rid of alternate side parking and get rid of the dirty streets. Let's educate the younger generation by leading by example and showing what it takes to build a community and invest in where we live."
Hershkop said he received an outpouring of gratitude from people who guessed it was him, "look at what I accomplished, just one man on one plow, look how many people I had a positive influence on," he said, adding that this is what neighbors do for one another and hopes that we can all go back to really being neighbors.
Zalman Raksin filmed his walk to work: