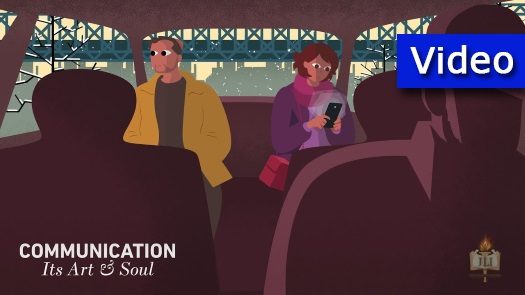 In response to many requests from local residents, JLI courses are now being offered in Crown Heights in partnership with local shuls and organizations. Over 1,400 Shluchim have been offering the inspiring and transformative JLI courses in their communities for years and Crown Heightsers have been asking "Lama Nigorah?: Why should we be deprived"?
The current course, "Communication: Its Art and Soul," distills wisdom from Torah and Chassidus and couples it with the latest developments in psychological research to find the secrets to healthy and effective communication to be better spouses, parents and friends.
The course comes at an important time when technology has changed so much about the way we connect as human beings. (When was the last time you actually laughed out loud when you responded with "LOL"?)
In Chassidus, communication is more than just a tool; it is who we are. Humans are defined as communicative beings with a communicative soul. Aligning ourselves with this soul is our purpose in life.
The classes begin next week and run for six weeks. Shuls or other groups interested in offering JLI courses to their community may contact the JLI central office by email to Yisroelb@myjli.com.
Living Chassidus
Starts: Monday, 27 Shvat, Feb. 12, doors open at 7:45, program starts at 8:00
Location: Machon L'Yahadus library, 825 Eastern Parkway
To signup: https://livingchassidus.org/JLI/
For women
Beis Levi Yitzchok
Starts: Tuesday, 28 Shvat, Feb. 13, 8:00 PM
Location: Bais Levi Yitzchak, 556 Crown St
To sign up: Rabbi Mendel Lerman – 917 327 9493 or, info@blys.org
For men and women, mechitza
Beis Shmuel
Private class
For Women
Nosson's Shul and Der Shul
Contact Sholomgoldstein@gmail.com or rabbicyw@gmail.com for more details
For men