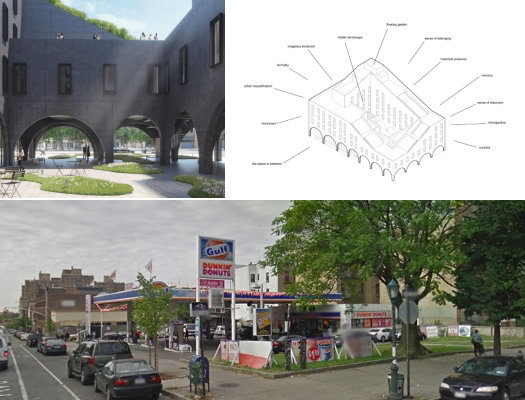 Developers have revealed renderings for the Bedford Hotel, a five-story, 38,000-square-foot development at 1550 Bedford Avenue at the corner of Eastern Parkway in Crown Heights. The complex will be built at the site of the former Gulf gas station.
From the Brownstoner:
The developer on the project is All Year Management, which purchased the site for $7.2 million in 2014, according to property records. They are currently working on a number of projects with ODA, including 123 Melrose Street (aka 28 Stanwix Street) in Bushwick, part of the former Rheingold Brewery complex.
A central courtyard will be accessible through an exterior featuring multiple ground-floor arches, with a slanted roof and terraces above that overlook the public area.
Interior renderings show modern looking rooms with arched niches and doorways reminiscent of mid-19th century Italianate architectural details common in Brooklyn.
The arches, patio and landscaping reference "division and transition," according to ODA's writeup, which also says the neighborhood "continues to be a region in transition."
Click here to continue reading at the Brownstoner.