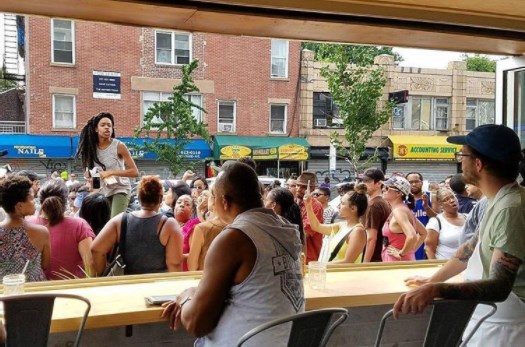 Dozens of people gathered outside of a new Crown Heights sandwich shop and bar called Summerhill, located on Nostrand Avenue, to protest the "gentrification" of Crown Heights and the bar, whose owner they labeled "racist" and "colonialist."
Organizers of the event showed up with a list of things they wanted owner Becca Brennan to do, such as remove a hole-ridden wall that she claimed came from bullets.
From the Gothamist:
Brennan, a 31-year-old former attorney and Toronto transplant, has apologized for the promotional blunder, after initially saying she was just being "cheeky" when she decided to photograph a $12 cocktail in front of "bullet holes" in the wall at 637 Nostrand. She has also faced community backlash for saying she would serve the 40 ounce bottles of rosé in paper bags, prompting accusations of classism and racism.
On Saturday, incensed residents spoke about the impact of gentrification on their neighborhood, and accused Summerhill of glorifying violence, and for-profit cultural appropriation.
"People of color are not props or backdrops," said Toya Lillard, who is black, and a Crown Heights resident of over 20 years. "If you are new to this community you are duty bound to do some research. To be culturally literate. To know where you are. To know what came before you. It's not our job to inform you or educate you. It's yours."
Summerhill was open for business during the protest, windows flung open to the street. Forty Ounce Rosé bottles had been cleared away from the bar shelves.
About a dozen patrons sat around the bar and at high tables, occasionally speaking with reporters, while Brennan herself mixed cocktails. She did not engage with the crowd outside, even as protesters started a loud chant of "Bye, Bye Becky," using slang for a generic white woman. Speaker after speaker climbed a step ladder outside and called for a boycott, while two publicists, one of whom described himself as "crisis management," took notes.
"I grew up here for 54 years," said neighbor Stephanie Simms, who is black. "I watched Colt 45 being bought. I have drank it in my years. Yes, it was a cheap drink and it was in a brown paper bag, but it destroyed lives. So why is it something that you want to monopolize on?"
"Glorifying violence is not the way to go," added another speaker, who did not provide his name. "I'm a resident of Crown Heights. I'm a black man. I'm offended that people are marketing our hurt, our pain, our struggle. Crown Heights is not on sale."