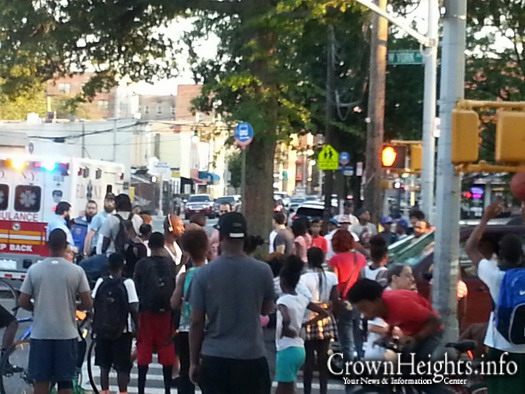 On Tuesday evening, Shomrim received an urgent call that a heated dispute had broken out between a large crowd of African-Americans and a few Jews, and that the situation was deteriorating and rapidly descending into chaos.
The incident, which occurred on the corner of Albany and East New York Aves., alongside Hamilton-Metz Park, unfolded when the Jewish driver of a vehicle accidentally struck a young African-American teenager riding a bicycle, lightly injuring him.
In a scene reminiscent of the incident that sparked the infamous 1991 riots, a large crowd of African-Americans – from young children to elderly grandparents – surrounded the vehicle and began to hurl accusations and epithets at the handful of Jews inside the car.
The insistence of the driver that he crossed the intersection on a green light only contributed to the rising tensions, as the crowd contradicted his claim and insisted that the opposite was true.
When the Shomrim volunteers arrived at the scene, they immediately called for police backup, and then sought to diffuse the situation by calmly explaining to the crowd that arguing about what happened was futile, and they would be better off giving witness statements to police as to what occurred.
Police arrived at the scene shortly thereafter and took control of the situation. They ordered the crowd to back away from the vehicle, and took statements from several witnesses for an accident report. The driver of the vehicle was not charged.
When the report was completed, police and Shomrim escorted the vehicle and its occupants to safety.