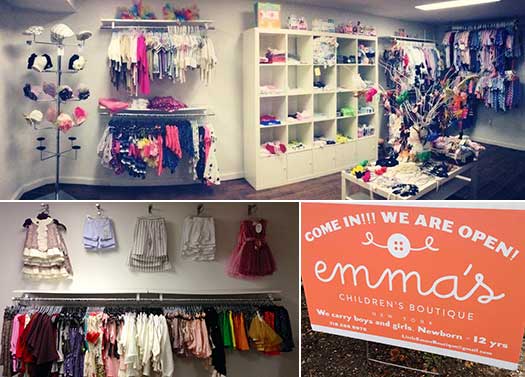 Leah is the stereotypical young entrepreneur: ambitious, smart, and hard working. Realizing that Crown Heights had room for a  nice place for parents to buy fashionable clothes for their children at competitive prices, Leah founded Emma's Children's Boutique in the heart of the neighborhood to fill the niche.
I recently visited the clothing store to see what the fuss was about.
I was pleasantly surprised. The store was beautiful, and immaculately clean. I've never been to a store in our neighborhood that looked so chic and had such a friendly vibe to it.
Leah is very passionate about what she does and is in touch with the latest fashion trends. Customers trust and appreciate her honest opinion, and each item in the store has a price tag so customers don't feel like they are being followed around. She's the youngest children's clothing store owner in Crown Heights, and her customers absolutely adore her.
I talked to a few shoppers during my short visit, and asked why they chose to shop there. The responses I got mostly focused on the store's remarkable customer service. "This is the only clothing store in Crown Heights that offers a proper full refund return policy," one of them said.
Leah explained to me that being a mom herself, she understands the challenge of bringing young children to shop with you. Instead, purchases can be brought home to be tried on, and if they don't fit – or the customer is not satisfied for any reason at all – they can be returned for a full refund in the original form of payment for five days following the purchase.
Another shopper pointed out to me that there is no other store in the neighborhood that marks down merchandise the way Emma's does after the season. There's a sale rack boasting markdowns of up to 80% off! It is also the perfect place to buy gifts, as they are all wrapped beautifully with true love and care.
Emma's Children's Boutique boasts a fantastic collection of children's clothing – from newborn until 14 years old – at great prices. It is located at 539 Crown Street [between Kingston and Albany Avenues] and is open daily from 11am to 6pm. (718) 288-8978.