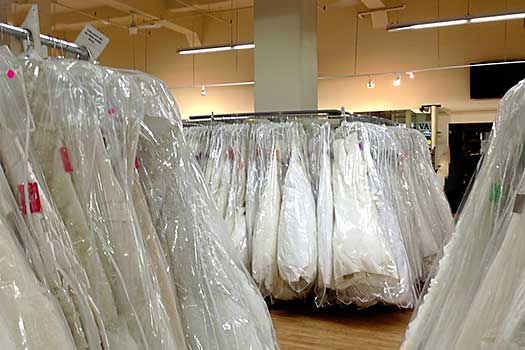 Mazal Tov!! She is engaged! Everyone is so excited! The Chosson and Kallah buy their respective Kapota and gown. The jewelry, the music, and the flowers are taken care of. But then comes the headache – if the mother or the sisters are plus-sized, where are they supposed to look for the beautiful gowns that will reflect their joy in this simcha?
Sure, there are plenty of gemachs and rental places; they have gorgeous 'eye candy' gowns… but these magnificent creations are rarely found above size 12. Anything beautiful and plus size is hard to come by.
Anyone who is plus-sized can identify with Rivky (not her real name), who came into New York for her brother's wedding. She is a size 22.  She went into all the gemachs and rental places in Crown Heights, Flatbush, Borough Park and even the 5 Towns.
She succeeded in two things: wasting a lot of her time, and stomping down on any last bits of self-esteem that she had.
In one rental place, the lady did not stop clucking her tongue as she found her a big black monstrosity to try on, and told her she should grab it because she was not going to find anything nicer that would fit. (Not to mention all the alterations needed, and the fact that the price would be $100 more.)
This is not the place to discuss the benefits of being slimmer, or how unhealthy obesity is. There is a need in our community. We must have a gemach that helps out those in need. A mom who needs to worry about making a wedding should not have to feel like she will look like a shmatteh at her daughter's wedding, just because she is plus sized. Sisters should not feel embarrassed when they want to shine and dance – why should they feel like they need to avoid the photographer?
Enter Devoiry Wilmowsky. She has quite a bit of experience in this field, along with the compassion to help. She is looking to open a gemach catering exclusively to the plus-sized among us – and she wants it to be a true gemach. She is not looking to do this for financial gain, she only wants to help.
In her words, "to be able to make a sister of the Kallah, or a mother of the Kallah, feel like a million bucks, especially when it is harder to do because of their size, is a challenge I want to accept. To see a Shlucha on such a limited time frame walk out with a perfect gown that makes her feel good and doesn't break her bank, is what I want this gemach to be about."
Costs are going to be kept a minimum, because she is doing this Le'ilui Nishmas her grandmother, Mrs. Rochel Kloc, OBM, a long-time Crown Heights resident and an eishes chayil known to all as the epitome of style, elegance and grace as befits a Bas Yisrael.
Devoiry says that in the past when she devoted hours upon hours a week to a Gemach on a purely voluntary basis, even when she had to run out of her house for an emergency during suppertime, the brochos she saw made it all worthwhile. She has found a niche, and one that we can all help her to fill.
If you have a plus-sized gown that you are able to donate to her worthy cause, please contact Devoiry so that she can make arrangements to obtain it from you. This year, when you clean out your closets for Pesach, think of those ladies who can use what is just taking space in your home. Of course, Hashem is watching, and in the zchus of your generosity, may He who is all giving, give to you from His open and generous hand.
This Gmach is being sponsored by Devoiry Wilmovsky and the Andrusier family in honor of their Grandmother, Rochel Sima Chaya bas R' Yisroel Oizer, OBM.  May she be a melitz yosher for all of us.
Devoiry can be reached at (718) 613-9306.