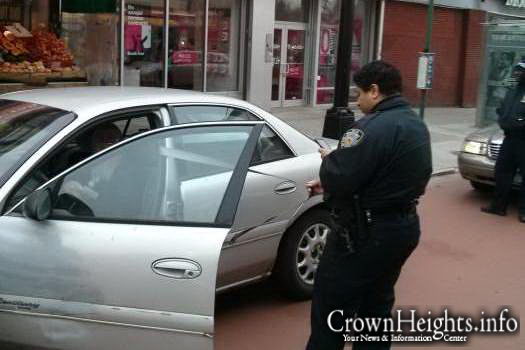 A pair of police officers driving around in an unmarked vehicle are handing out tickets to motorists not wearing a seatbelt in the Crown Heights area, a concerned neighborhood resident told CrownHeights.info.
In the photos send to our inbox, the officers can be seen inspecting an elderly Jew's seatbelt after he tells them that the reason he wasn't using it was because it is broken.
Aside for the obvious physical dangers involved, driving without a seatbelt can lead to a hefty fine:
The fine for violating New York seat belt law depends on the age of the person not wearing the belt. If the unsecured party is over the age of 16, the fine is $50.00 plus court costs. However, if there was a child under the age of 16 in the car without a belt, the fine can range from $25 to $100, and the violation will add 3 points to your New York driving record.
If you do get stopped with a child under the age of 7 and no child seat, you can get your first offense dismissed if you rent or purchase an approved child restraint system before your court date. You only get one "freebie," however. On a second offense, you will be fined and the points will go on your record.
New York law requires all drivers and front seat passengers to be buckled up, no matter how old they are. In the back seat, children under 16 must be buckled up at all times. Although adults in the backseat should always wear a seat belt for safety reasons, they are not legally required to in New York. Children under the age of 6 must be in an age-appropriate child seat. Merely buckling them up with an adult seat belt is not going to satisfy the requirements of the law.