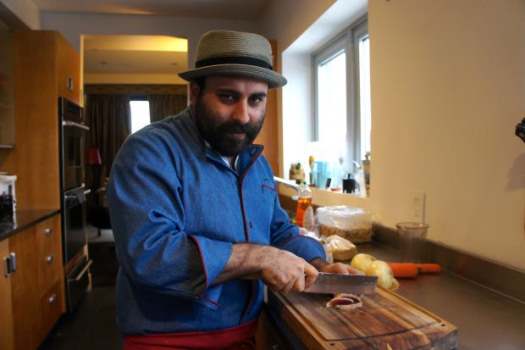 Yuda Schloss at work at his Crown Heights apartment.
Orthodox chef Yuda Schloss knows his way around bacon — lamb bacon, that is. The self-described hipster is the culinary force behind new pop-up eatery Hassid+Hipster, whose handcrafted artisanal kosher sandwiches have been generating a buzz in Crown Heights' Chabad-Lubavitch Hasidic community.
"Hasidic to me is something that's traditional and old and hipster is something new. That's what I try to do with everything," said Schloss, 30, who launched the takeout-only sandwich shop from his apartment at Eastern Parkway and Albany Avenue last month.
"When I do a brisket sandwich — traditional Jewish food is brisket, and I try to bring it to the new age."
Hassid+Hipster's $15 pulled brisket sandwich comes topped with roasted cauliflower, charred mandarin and green onion marmalade — just one item on a constantly rotating menu that also recently included lamb ramen, duck prosciutto and quinoa dumplings.
Schloss announces his offerings and takes orders over Facebook, and then he opens his home for a few hours twice a week so that hungry Brooklynites can pick up their selections. He has more than 600 fans on Facebook and said he serves roughly 70 diners each day he is open.
"I think the Hasidic community over here, there's such a demand now for good gourmet food, not the usual shawarma, Chinese food — everyone wants to tap into the same thing the hipster community and all the restaurants on Franklin Avenue are doing," Schloss said. "You could say that the Jewish and Hasidic palate has expanded dramatically in the last five to 10 years."
Schloss himself has spent nearly a decade in the food business, beginning with The Fresh Diet, a Brooklyn-based company that delivers nutritious food. His father ran Manhattan macrobiotic restaurant The Cauldron, making the meat-heavy menu at Hassid+Hipster something of a rebellion for the young cook.
But running a small business out of his home is not without its challenges, Schloss said. Because he doesn't have a formal restaurant, Schloss can't get a hechsher, a certificate of kosher supervision that many Orthodox diners demand as proof that their meal's provenance and preparation adhere to strict Jewish dietary laws.
"Normally I would need it, but kosher supervision would not give it in someone's house because they don't observe it 24 hours a day so they don't know what you're doing when they're not there," the chef explained.
"Most of the people who buy from me know me or know someone who knows me, so they trust me….  Back in the day in Europe, everything was about trust — it wasn't about a company that would give the stamp of approval."
The city's Health Department, too, said diners should be leery of an informal food establishment that is not under the city's supervision.
"Home-based food service establishments are illegal throughout New York State. Because they are unregulated and uninspected, they may pose a health threat to diners," the department wrote in a statement, while declining to comment on Hassid+Hipster specifically.
"Home-based restaurants are not inspected, so there is no assurance that they practice basic food safety, such as safe food handling, proper hygiene and monitoring food temperature to prevent the growth of bacteria."
But some diners say the unique experience at Hassid+Hipster outweighs the potential health risks.
"I love his food — you can't get anything kosher that tastes this good and fresh," said regular Avi Marshall. "I would assume my parents wouldn't eat here because they don't know Yuda like I do."
Schloss said his early accolades are making him think about opening a real restaurant in the area.
"I got people from LA and Miami saying, 'When could you come over here and do a pop-up week over here?' If I could continuously get that kind of reaction out of people, then I know that I have what it takes to maybe do something casual in this neighborhood," Schloss said.
"If it's something I think could last, maybe I'll open up a location right in between the [hipster and Hasidic] communities and bring them together."