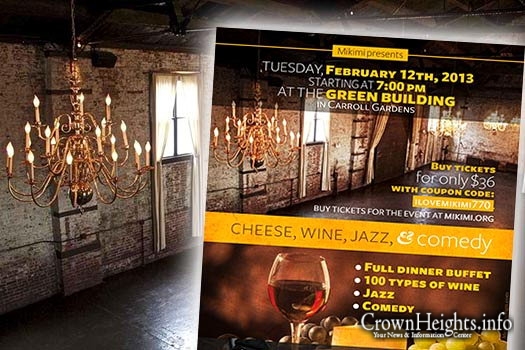 Tuesday, February 12th Mikimi, an organization which regularly hosts creative events, will be hosting an event at the Green Building in Carroll Gardens that will include a wine tasting, full dinner buffet, and jazz, followed by a comedy show.
Entrance fee will be $72 ($36 with coupon code "ilovemikimi770") and can be bought at Mikimi.org
The wine tasting will include 100 types of wine, including wines by Herzog and Yarden as well as new wines from the Livni and Arza series.
Jazz will be performed by Daniel Berry and Eli Jayson, performers in the Hassidic Dance Party.
But the main act will be Rav Shmuel and Joel Chasnoff, who will be performing comedy.  Rav Shmuel will play his unique brand of comedic music and Joel Chasnoff, author of the comic memoir The 188th Crybaby Brigade, will be doing standup comedy.
Mikimi, which hosted this year's Yosef Karduner concert and regularly hosts creative events such as open mics, art classes, and exercise classes, is hoping to increase its profile with this latest event and raise money for future programs
"We've grown quickly in the few months since we've launched," said director Elad Nehorai, "But we want to take the organization to the next level with this event.  It is a fundraiser, in a sense, but we want to get as much of the Crown Heights community involved as possible."
Elad went on to state that Mikimi's ultimate goal is to create a community center for Crown Heights that will host more such events as well as classes, a gym, and much more.
RSVP for the event on Facebook and buy tickets for the event on the Mikimi website (coupon code "ilovemikimi770").