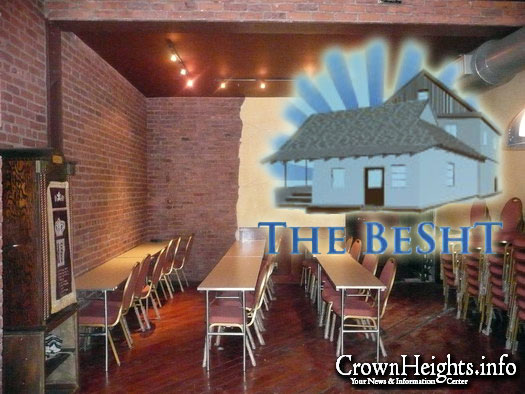 A new shul has opened its doors in Crown Heights. The Besht Center, which is named after the late Reb Shmuel Tanchum Shuchat A"H, seeks to fill the spiritual needs of its participants– post yeshiva Bochurim and newly married youngerlight. The motivation for the Besht Center is that Crown Heights is a flourishing and ever expanding community brimming with young people in search of a kehilah to call their own.

The new shul is temporarily located in the old Boulevard Café at 510 Empire Blvd, as construction continues for our permanent home next door at 508 Empire. It's warm and modern environment will house a multitude of educational and extracurricular activities including a unique array of lecture, and a variety of weekly Shiurim covering topics such as contemporary Halacha, Chassidic fundamentals, sugiyos in gemorah and the JLI, as well as farbrengens with notable Chassidic personalities.
The Besht also houses a new kind of Shul for those seeking a more meaningful davaning. The Teffilos are filled with singing and emotion, and a respectful decorum is kept throughout. Included in the shul's learning opportunities is a seder niggunim with Rabbi Leveke Kaplan.
The Besht is directed by Rabbi Yehoshua Werde longtime community askon whose drive is to meet the spiritual needs of Crown Heights emerging young community. It is under the spiritual direction of Rabbi Mendel Kalmanson, originally from New Haven, whose wealth of knowledge, engaging teaching style, and creative writing talents combine for a challenging and deeply satisfying learning experience.
To learn more about our current activities and to listen to our previous classes and lectures log on to Beshtcenter.org