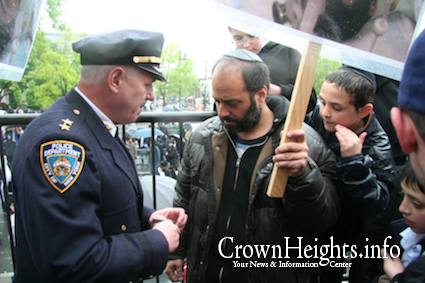 Father of victim talking with Police Chief Joseph Fox
CROWN HEIGHTS, Brooklyn [CHI] — against all odds, along with premature prediction of miserable failure, over 800 impassioned residents including men, woman, and children marched in solidarity under the banner of one voice, we will not be victims, and expressed their outrage.
More pictures in the Extended Article! (96 Pictures)

The march began on Albany and Empire where Alon Sherman, a 16 year old Bochur was viciously assaulted and robbed on Thursday night, beginning with around 200 residents holding banners and picket signs proclaiming their frustration, later ending with over 800 participants.
While completely unorganized and the crowd had no definite direction, it was a peaceful march where residents chanted "Jewish blood is not cheap" along with "we want justice" and "Vega go home".
Banners proclaimed "NYPD ignoring our community" and "Jews are people too" along with the most provocative banner which was a picture of the victim laying bloody in a hospital bed.
As the crowd marched down Empire they stopped in each intersection, snarling traffic for blocks. While standing in the intersection of Kingston and Empire the crowd chanted "Ad Mosai, Ad Mosai…".
At the 71st Precinct the police prepared by setting up barricades on the sidewalk in front, but the crowd did not stop there as was expected, and instead they continued marching up New York Avenue all the way to Eastern Parkway where the march stopped right in the middle of traffic, some residents even sat down in protest.
It was when the crowd reached Eastern Parkway did it seem that police got hold of the situation by blocking traffic at Nostrand Avenue and at Troy Avenue leaving the parkway clear of vehicles.
The final leg of the march was to 770 where the march made its last stand before scattering just a half hour before Shabbos.
Michal Sherman, the father of Alon who was the victim of the brutal attack, spoke with Chief Joseph Fox, Commanding Officer of the Brooklyn South Taskforce after which he addressed an unfriendly crowd with a megaphone, who booed him at times.
Noticeably absent from the march was any of our community leaders from the Vaad Hakohol.