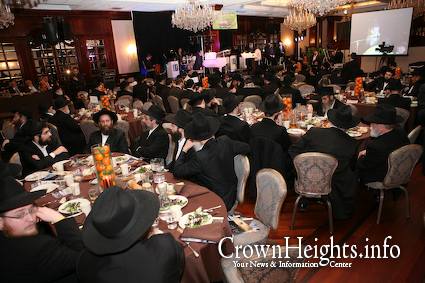 RCCS GETS A STANDING OVATION IN CROWN HEIGHTS
CROWN HEIGHTS, Brooklyn [CHI] — Over 1200 people from all spectrums of the Crown Heights and Greater New York Jewish communities attended a Melaveh Malkah organized by RCCS at the RAZAG ballroom on Mostei Shabbos Shirah. Every seat in the ballroom was taken and hundreds stood on the sides to participate in the uplifting program.
More pictures in the Extended Article! (58 Pictures)

The evening had a twofold purpose: to capitalize on the unique power of song and joy to generate positive energy for health and well-being and to raise money for the Crown Heights chapter of RCCS (Rofeh Cholim Chayim Society).
As Rabbi Moshe Klein explained, "RCCS helps over 30 patients in Crown Heights who suffer from the disease whose name the Rebbe would not mention by paying their health insurance. Over 7 million dollars has been paid in the last 7 years for Crown Heights patients and over 20 million dollars were paid out by insurance companies for the medical care of these individuals."
Rabbi YY Jacobson, the master of ceremonies, highlighted the potential of Simchah to overcome challenges. He described the cherished place Heichal HaNeginah, "the palace of song," had in the hearts of the Lubavitch Rebbeim, illustrating this theme through stories.
The classical orchestra, directed by Avremi G. played several Chabad Nigunim. The vocalists, Levy Kaplan and Benny Friedman, were able to give expression to the full range of emotions the melodies evoked. Also featured was Gershon Wachtel, a Toronto-based virtuoso pianist, who presented a unique assemblage of Chabad melodies.
The audience were more than passive listeners. Their identification with the melodies produced palpable feelings of spiritual connection and hope.
Awards were presented to Rabbi Moshe Klein and Yossi and Bella Rubashkin for their outstanding work on behalf of RCCS. Dr. James Speyer received the Chesed award for his dedication to the community.
Uriel Abromof, a patient helped by RCCS through illness and recovery, related the personal miracle he experienced, sharing a message of Ahavas Yisroel and Achdus.