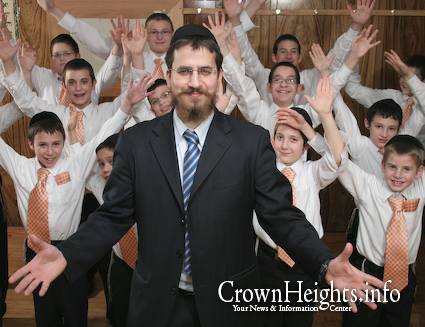 BROOKLYN, NY [CHI] — Boys of all ages and sizes bound down the steps alongside the shul, now practice room. They hurry in to the sound of their songs playing from the speakers. With tapping toes and humming lips, these boys are ready for practice.
More pictures in the Extended Article!

Choir director, Rabbi Danny Finkelman, is elated at his charges' enthusiasm. One of the goals of the Sparks Boys Choir is to improve the boys' self-esteem and show them that what they are capable of. While the Choir is comprised mainly of boys from Yeshiva Darchai Menachem where it is based, students from other local schools participate as well. Their growing camaraderie is clearly another beneficial offshoot. Together the boys are experiencing the passion of Yiddishkeit through the joyful nigunim.
Finkelman himself started his musical career as a young boy. He was one of the original members of the Miami Boys Choir. Since then he has performed widely (and with many musical greats) around the world. The original Sparks, based in Israel, produced its own popular CD. Finkelman and his choir are currently working on another CD to be released on Lag Baomer. Aside from professional voice lessons, Finkelman graduated from the New York City Film Academy.
Finkelman is a great believer in professional training. He utilizes specialized voice teachers and choreographers to teach the boys. He believes that the show isn't only about him, and his singular perspective. In order for the boys to truly develop their talents and passion, he asserts, they must first be taught properly from a variety of sources.
This careful guidance is apparent to all who have enjoyed the Sparks Boys Choir's performances. The audience enjoys the professional boys' choir with a Chassidic touch, a phenomenon according to Finkelman. The name itself describes their mission. They are not merely entertainers or stars. Each boy is a shliach of the Rebbe entrusted with spreading the sparks of Chassidus through creative means.
And spread the sparks they do. The boys performed to a sell-out crowd last year in Crown Heights. Since then, they sang for senior citizens and Russian members of the community, and preformed on the Russian TV Network for Chanukah. Come this February, they will be returning to Bais Rivka for another spectacular performance.
Save the date 24th of February 18 Adar alef, ticket sales starting after the 1st of February.