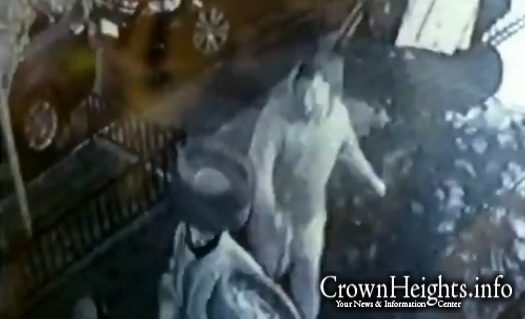 An arrest has been made in connection with an assault on a father walking home with his son from shul Friday night. The alleged perpetrator, has 5 prior arrests, and lives in the area.
by crownheights.info
Enirque Gerena, a 32 Years old, man who lives in Williamsburg was arrested on Tuesday in connection with the Friday night assault in Williamsburg.
As previously reported on crownheights.info, around 6:30pm Friiday night at Throop Ave and Wallabout St, a father was on his way home from shul with his son when he was suddenly assaulted from behind.
The assailant can be seen nonchalantly approaching the man from behind, when he suddenly speeds up and punches the father in the head with a closed fist. The father is thrown to the floor from the blow, as the assailant begins running away.
Witnesses from the incident immediately gave chase, but lost him in the area of Broadway and Flushing Ave.
The 90th precinct, who arrested Mr Gerena, stated that he has five prior arrests, but did not specify what he was arrested for in the past.
Suspect that was just arrested for attacking an Orthodox Jewish man on Throop Avenue in the Broadway Triangle area of Williamsburg last Friday night is Enirque Gerena, 32 Years old, Lives at 716 Willoughby Avenue and has 5 Prior arrests #HateCrime Thank You 🙏@NYPD90Pct pic.twitter.com/QIeqa0mpCd

— Gary Schlesinger (@GarySchlesinger) December 4, 2018