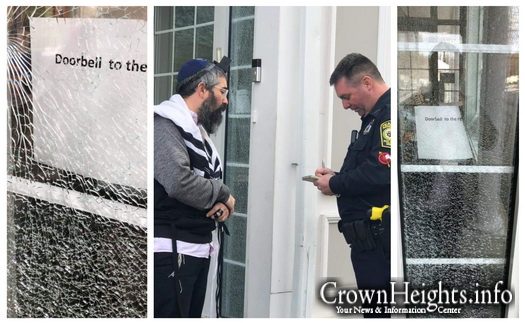 The Chabad of Peabody arrived for Tefillin Club Sunday morning to find that their location had been vandalized overnight. One of the front windows of the synagogue had been shattered by what appears to be a BB gun.
by crownheights.info
Every Sunday morning Rabbi Nechemia Shusterman hosts a Tefillin Club for men at Chabad of Peapody Massachusetts. This Sunday morning, evidence that something was wrong was seen even before entering the synagogue.
Overnight, someone had shot one of the front windows of the synagogue with a BB gun, leaving it shattered.
Police were called to file a report, and said they believed this to be a random act of vandalism, and not a targeted, nor anti-Semitic incident.
Chabad of Peabody, run by Rabbi Nechemia and Raizel Schusterman, has had extra Police support following the Pittsburgh tragedy, including a police presence at their Hebrew School.
A security meeting is scheduled with the Peabody Police for Monday to address security issues.
To donate to Chabad of Peabosdy, Click Here