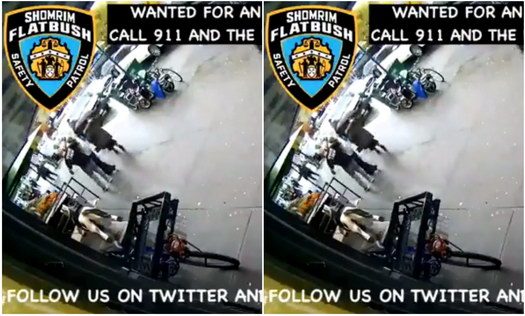 An elderly Jewish man was viciously assaulted in broad daylight while walking in Flatbush Tuesday afternoon. The assailant, described as a male approximately 5 foot 8, and 250 pounds, is presently wanted by the 70th Police precinct for the assault.
by crownheights.info
The incident occurred around 3:30pm on Ave J in the heart of Flatbush. An elderly man was walking, when a man wearing a black shirt with the words "Stage Crew" in white on the back, started swinging at him. The man punched and kicked the Jewish man multiple times during the ten second assault.
A bystander intervened, and after some words were said, the assailant walked away.
There has been an increase in unprovoked and senseless attacks in Brooklyn recently, including the beating of a Chasidic man Boro Park, and a deranged assault in Crown Heights.
Flatbush Shomrim has tweeted out a video of the incident, and asks that if you have any info to call NYPD70Pct 911, NYPDTips at 1800577TIPS and the Flatbush Shomrim 24 hour hotline number (718)338-9797.
The suspect seen in the video is #wanted for a vicious, unprovoked assault against an elderly male at approx 3:30pm on Avenue J. If you have any info call @NYPD70Pct 911, @NYPDTips at #800577TIPS and our 24 hour hotline number (718)338-9797. #YourCityYourCall pic.twitter.com/UcYdDV6Imc

— FSSP SHOMRIM (@FlatbushShomrim) November 6, 2018
Update: An earlier version of this article stated that the perpetrator was white. This information is unverified.