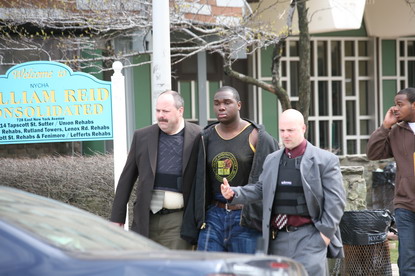 Brooklyn, NY – Thursday afternoon at around 3:00pm detectives from the NYPD received a tip that a suspect wanted for murder in Queens this past Sunday was hiding out at his grandmother's apartment on E. New York Ave between Troy and Albany, across from Bnos Mencham.
More pictures in the Extended Article.

When detectives approached the apartment one of the occupant's barricaded himself inside and police had to call on the NYPD's Emergency Service Unit [ESU] to get the suspect out, with out him harming himself or anyone else. Police shut down pedestrian and vehicular traffic on the block to enable ESU to operate without the added worry of such traffic.
After about a 20 minute standoff with police, the suspect was taken into custody. BH there were no injuries and no shots fired. Shortly after the suspect was taken into custody it was determined that he was not the one the police was after.
Traffic for both pedestrians and cars was reopened shortly after.