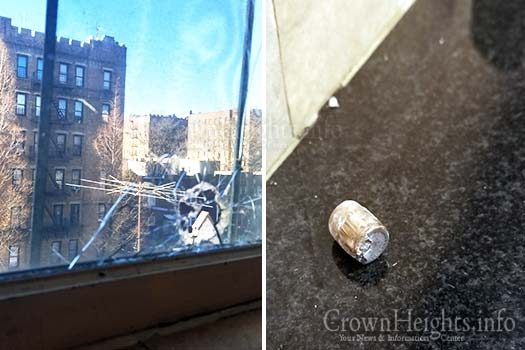 As the new year was being rung in, one Jewish family in Crown Heights had the misfortune of having one of their apartment windows shattered by errant gunfire at midnight.
by CrownHeights.info
As the fireworks exploded over New York City and millions of revelers celebrated the incoming new year, a Jewish family on Lefferts Avenue in Crown Heights were startled awake when one of their apartment windows suddenly shattered.
The incident occurred at around midnight when the mother of the household heard the sound of shattering glass in their kitchen. Upon checking it out she discovered a bullet hole in the window above the sink, and the slug lying on the window sill.
"My family is really freaked out [over the incident]," said the father of the household. When asked if he thought his window was targeted he said "it is tough to say."
When police officers arrived in the morning they collected the bullet and said that it was most likely new year's celebrations and people shooting up in the air as the fireworks were going off. "They said that they would be running forensics on the bullet, but have little hope of anything coming of it."
"You always hear gunshots" said the homeowner, "but you don't expect bullets to come through your window."
This shooting occurred less than a half block from the neighborhoods largest Jewish girls school, Beth Rivka on Lefferts and Brooklyn. The gunfire appeared to have come from 501 Lefferts Avenue, an apartment building with 60 residential units that is owned by landlord Joseph (Yossi) Popack.