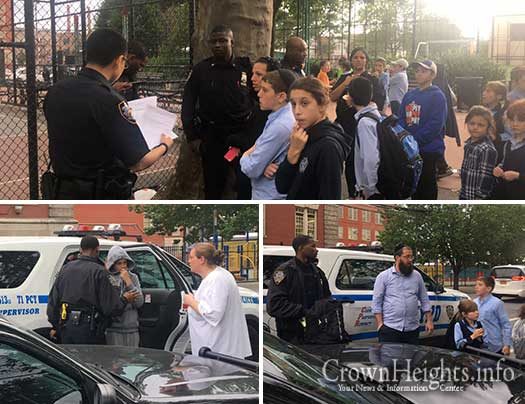 Cooperation between Shomrim volunteers, police officers and the community led to a positive outcome after two backpacks – one containing an iPad – were stolen from Jewish children in the Hamilton Metz Field park on Lefferts Avenue.
According to Shomrim, which received multiple reported incidents in "Lefferts Park" involving pre-teen trouble-makers, they received a call after two backpacks were stolen from Jewish children who were playing in the park. One of the backpacks contained an iPad.
Shomrim volunteers arrived at the park and learned that the victims, who first notified their parents – who in turn called Shomrim, were playing in the park when their backpacks were stolen. Witnesses described the thieves as a group of pre-teens that have been bothering park-goers on many occasions in the last few weeks.
A picture of one of the suspects, which was captured during a previous incident, was provided by witnesses.
Shomrim called 911, and officers responded and took the victim and his mother for a search of the area. Meanwhile Shomrim volunteers conducted a local search and located one of the backpacks a short block away from the park.
A little while later, Shomrim spotted one of the pre-teen suspects and kept an eye on him, while police were called to return to the park. Sensing something was up, the kid approached Shomrim and vehemently denied being a part of the theft, even offering to lead Shomrim to the stolen backpack.
Police arrived back at the park and – together with the victim and Shomrim – were about to head over to the home of the suspect and retrieve the backpack, when two women, accompanied by another boy, approached the officers and handed over the backpack containing the iPad.
The women, mothers of each of the two boys, apologized profusely and begged the forgiveness of the victim and his mother, while promising to ground their sons and prohibit them from going to the park. In light of the parents' intervention and the return of the stolen property, the victims declined to press charges.
The mothers then gave Shomrim their phone numbers and asked to keep in touch if there were ever any problems in the future.
"This was a great example of cooperation between our communities, which led to a very positive outcome" said Mendy Hershkop, a coordinator of Crown Heights Shomrim. "With cooperation like this we have the chance to resolve youth issues in a constructive and durable manner."