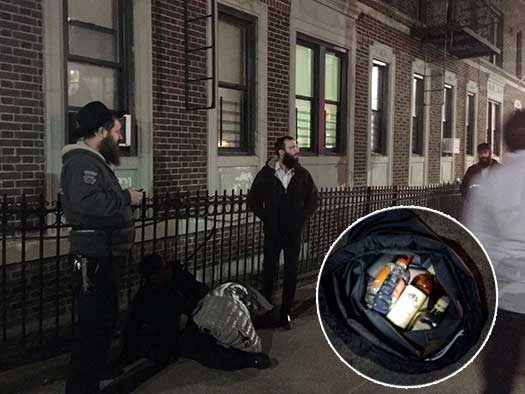 A man was arrested after an alert resident spotted him walking out of his neighbor's apartment with a large bag over his shoulder.
The incident occurred at around 7:30pm near Crown Street and Schenectady Avenue. A man witnessed a Black man walking out of his Jewish neighbor's apartment and began following the man while calling Shomrim.
"I heard a big noise and looked outside my apartment and I did not see anything" the witness said, "a few minutes later I was taking the garbage out and saw the man leaving the apartment and I knew that he didn't belong there."
The witness then called Shomrim as he began following the suspect up Schenectady Avenue. A Shomrim volunteer, who happened to be in the Shul davening Maariv immediately walked outside and spotted the suspect, who was carrying a large laundry bag over his shoulder, who began running.
A short chase ensued where the man dropped the bag and then simply gave up running and sat down on the ground. Additional Shomrim volunteers quickly arrived on scene and secured the stolen property – which happened to be a cache of pricy liquor bottles.
Police officers arrived a short while later and took the man into custody.
While in police custody he freely admitted that he was inside the apartment, saying that he was claustrophobic and that had to kick down the door, though there was no damage to door.
Shomrim contacted the landlord and helped locate the tenant of the burglarized apartment so that police could charge the man with burglary.