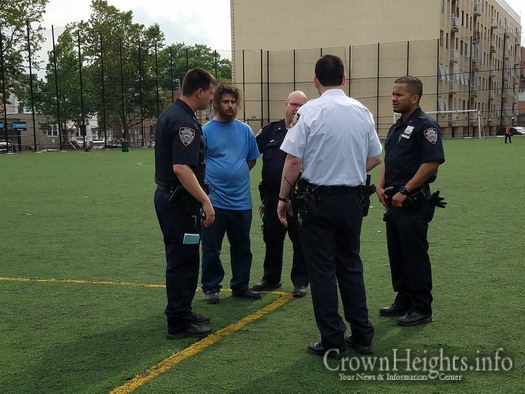 A video that has gone viral showing a man in Lefferts Park behaving in a 'creepy' manner around children prompted a number of concerned parents to call Shomrim after observing the same man in the park once again today. He was taken into custody.
Shomrim received multiple calls on Tuesday afternoon alerting them that the man, seen in a video that has spread over social media on Sunday, is in Lefferts Park once again and behaving in a similarly creepy manner around children.
"I saw him walking around the playground and smiling at kids and getting very close," one mother said.
Upon arriving in the park, Shomrim observed the man playing ball and engaging in conversation with some young kids. The volunteers kept an eye on the man while calling police, who arrived a few minutes later. When police asked for his name, the man became uncooperative and answered evasively.
The man appeared to be emotionally unwell and police took him into custody, informing bystanders that he would be taken to the psyche ward at a local hospital.
"Parents need to know that just because they are in a park their kids need to be in their sight at all times," said a Shomrim spokesperson. "Even if there are other parents there, a child can very easily fall victim to a predator or an emotionally unwell person. Always, if you see something that troubles you, never hesitate to call 911 or Shomrim."