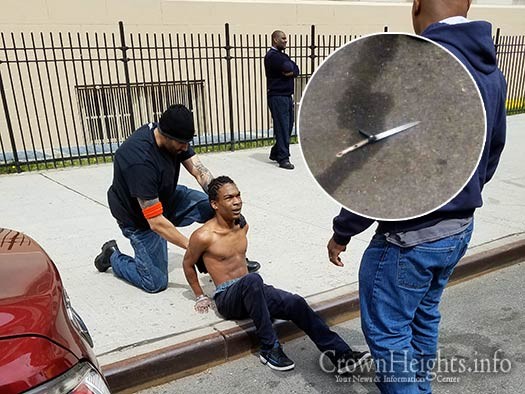 A shirtless man was apprehended Friday afternoon after he chased a Jewish man while wielding a large knife and shouting Allah Akbar on Montgomery Street.
The incident occurred on Friday afternoon at around 1:40pm in front of 899 Montgomery Street near the corner of Schenectady Avenue, where a man was brandishing a knife and shouting while running in and out of the building.
A Jewish man who was in his car and waiting for the traffic signal to change observed the scene when suddenly the man turned his attention to him and began approaching his vehicle. "I was very afraid so I made the turn and stopped to keep an eye on him while I called 911" he said. "As I was giving the information to 911 the man stripped off his sweatshirt, then his shirt and was still running in and out of the building and shouting at people while holding the knife."
Realizing suddenly that he was being watched, he began running after the Jewish man, who after waiting for police quickly called Shomrim. "He was running at me and still shouting when I realized that what he was shouting was 'Allah Akbar'."
A large number of Shomrim volunteers responded to the area and with the assistance of two plainclothes police officers from the 67th Precinct who happened to be passing by they managed to apprehend the suspect.
Shomrim located and secured the knife, which the suspect dropped while running.
While being taken into custody the suspect was observed wearing a pair of latex gloves and told police that he was on medication.
Police sources said that the suspect is 19-years-old and lives in a nearby building. He has a criminal record along with psych history.
Hate Crimes Task Force was notified about the incident and is investigating, in the meantime the perpetrator was charged with menacing. He was taken to Kings County Hospital for a psych evaluation.