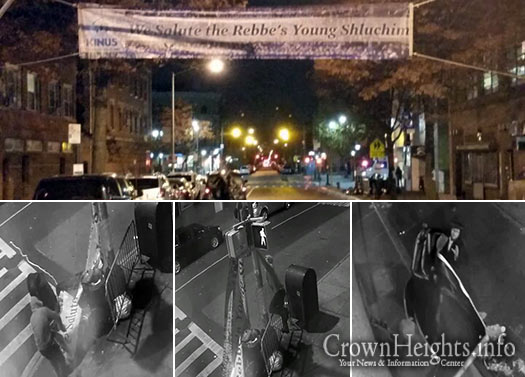 A sign welcoming the young Shluchim who traveled in to Crown Heights for the Kinus Tzeirei Hashluchim, was torn down and destroyed just a few hours after it was hung up.
The large sign was prepared by the Vaad HaKinus and was hung across the roadway on Kingston Avenue and Union Street. It read "We salute the Rebbe's young Shluchim" along with the logo of the Kinus.
Volunteers hung the massive sign up on Wednesday night at around 3:00am, but were shocked to discover that by sunrise it was already gone. Nearby surveillance video reveled that some two hours later two individuals climbed up the pole and cut down the sign. They then cut the sign in half and threw it into the trash of a nearby home.
"What could a simple sign greeting children have done to draw such ire from these two individuals?" asked one of the volunteers, "a sign greeting children, What have we come to?"