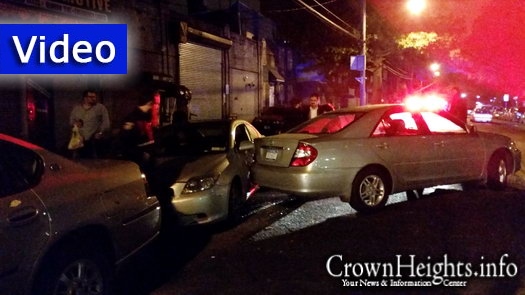 At around 9:00pm Thursday night, a Crown Heights woman going to a Simcha at the Razag Ballroom left her car with the valet employees for parking. In the few minutes it sat in front of the building with the key in the ignition, a man jumped inside and drove off with it.
The valet employees immediately gave chase to the thief with another two vehicles, pursuing him down East New York Ave. towards Brooklyn Ave.
As he neared Brooklyn Ave., the perpetrator tried to reverse the car and drive in the opposite direction. While attempting this maneuver, he lost control of the car and crashed into a parked vehicle.
The thief then fled the scene on foot.
A review of surveillance footage of the incident reveals that the perpetrator was a white male wearing a leather jacket.
In an interview with CrownHeights.ino, one bystander postulated that the thief seemed to have intimate knowledge of exactly how the Razag valet system works, and taken advantage of a previously discovered weakness in security.