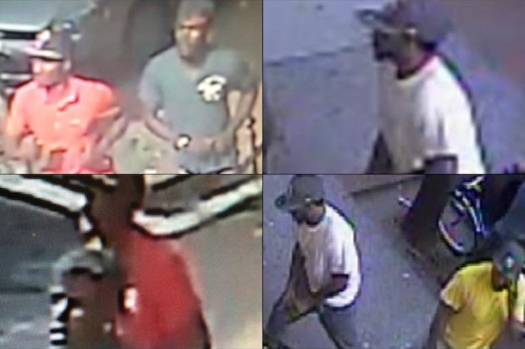 Photos released by police of the suspects in the two incidents.
Police are searching for two groups of men who held up victims at gunpoint in Crown Heights this month, stealing jewelry and money. Both incidents occurred in broad daylight.
From DNA Info:
Police said two men with guns held up a 52-year-old man on Pacific Street between Kingston and Albany avenues at 4:30 p.m. July 9. The victim handed over his wallet, cell phone and jewelry, and the suspects fled without hurting him, police said.
The suspects in the robbery were last seen wearing a bright orange, polo-style shirt and a dark-colored T-shirt, according to surveillance footage released by police.
The second incident took place at approximately 7:30 p.m. July 25. Police said two men armed with guns threatened a 55-year-old man in front of the Stop 1 Deli and Grocery on Flatbush Avenue between Winthrop Street and Parkside Avenue in Prospect-Lefferts Gardens. They took jewelry and a bank card from the man, according to police.