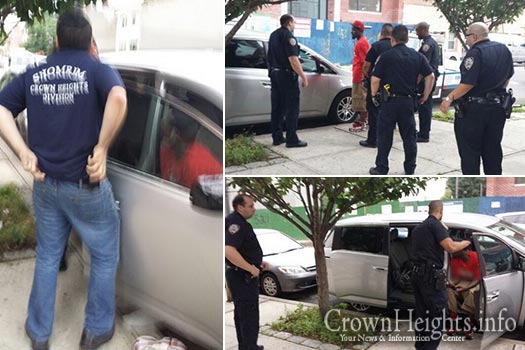 A car burglar on the prowl at 6:00am was apprehended by a group of Shomrim volunteers, following a phone call to their hotline.
The incident occurred just after 6:00am on Maple Street just off Kingston Avenue. A resident spotted a black man inside her minivan, which was parked in front of her home, and immediately called Shomrim –who in turn notified the police as well.
A half-dozen Shomrim volunteers arrived on scene within moments, and to their surprise the burglar was still inside the vehicle. The group of volunteers surrounded it and held the doors shut until police arrived at the scene, which was within minutes of Shomrim's arrival.
Police immediately placed the man under arrest and took him into custody.
Officers determined that the burglar lives in the Bed-Stuy neighborhood of Brooklyn, and when asked what he was doing in Crown Heights he offered no explanation.