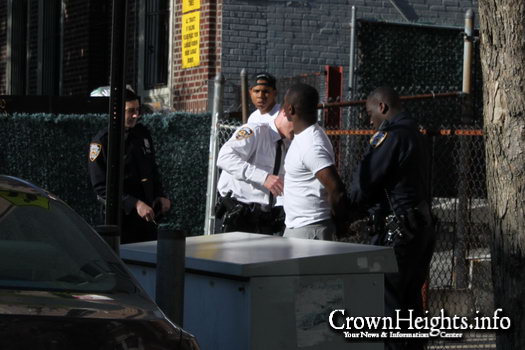 A man was arrested Tuesday evening after throwing a rock at vehicle driven by a Shomrim Volunteer. The man, along with a friend, was harassing two Jewish girls on Montgomery Street.
The incident occurred at around 6:00pm near the corner of Montgomery Street and New York Avenue. A Shomrim volunteer – who happened to be driving by – witnessed two Black men harassing two Jewish girls: first calling out to them, and then shouting profanities and expletives after they were ignored.
Noticing that they were being watched, one of the men turned to the Shomrim volunteer and asked "what are you looking at?" When he did not get a response, the man bent down, picked up a rock and hurled it at the car, causing minor damage.
The volunteer called for backup and police assistance – which arrived within seconds. The man was apprehended and charged with criminal mischief.