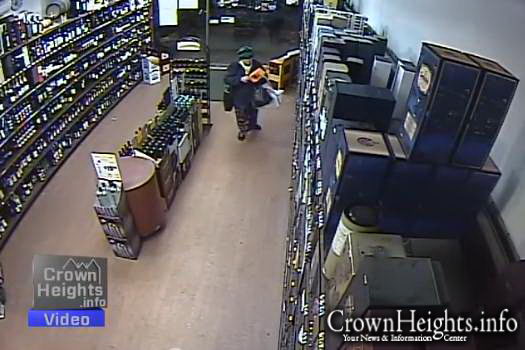 An elderly beggar who collects alms on Kingston Ave. was caught on surveillance video stealing two bottles of rum from Eber's Liquor and Wine store in Crown Heights.
As can be seen in the video, the woman approaches the store, but doesn't enter until another patron walks in first. Then she rummages through the selection for a short while to put on as if she were genuinely interested in purchasing something.
Eventually, while she believes she is unobserved, she sneaks two bottles of rum into her bag and makes for the exit.
When the storeowners noticed the missing merchandise, they discovered the theft on the security cameras, which they forwarded to CrownHeights.info to warn other shopkeepers and members of the community to beware of the thief in our midst.
A police report on the crime was filed as well.
This incident comes merely weeks after surveillance video was published by CrownHeights.info showing two beggars rummaging through the coat pockets of wedding attendees at Razag, and exiting with several stolen items.
Please keep in mind that just because a man or woman dresses poorly and asks for money does not mean that they are genuinely in need, or that the money will be used for food or shelter rather than to fuel addictive habits. If you wish for your money to go where it will actually benefit the needy, it is important to verify that the recipient is indeed a worthy beneficiary of your charity.