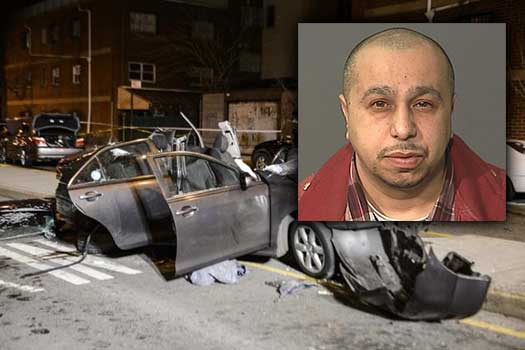 Police identified Julio Acevedo, 44, as the suspected driver of the BMW that plowed into the two expectant Brooklyn parents, Nachman and Raizel Glauber, killing them both early Sunday. The couple, both 21, were in the back of a cab on their way to a hospital after 7-months-pregnant Raizel experienced pains.
The BMW was going 60 miles an hour at the time of the crash, police said. The impact sent pregnant Raizel flying across the street, and partially ejected her husband from the livery cab.
Doctors were able to deliver the baby by Caesarean section, but he died about 5 a.m. Monday.
The cause of death was extreme prematurity caused by blunt force trauma to the mother, the city's medical examiner said.
The infant weighed less than 3 pounds, a source said.
Acevedo was charged with drunk driving in February, police said, and has a lengthy rap sheet, including serving eight years for manslaughter over a shooting death in Brooklyn.
"We have identified him and are looking to talk to him in connection with these deaths. We believe he was the driver of the BMW and fled the scene," said Deputy Commissioner Paul Browne.
A woman who said she was Acevedo's mother sobbed her condolences to the Glauber family Monday from inside her Brooklyn apartment, but refused to open the door.
"I know why you are here. You are here for my son. He doesn't live here. I don't want to talk. I have nothing to say. Tell the family of my condolences," she told the Daily News.
The woman, who said she is estranged from Acevedo and "didn't raise him," heard from family members that her son planned to turn himself in to authorities.
Meanwhile, grief-stricken relatives and friends crowded into the family's Williamsburg apartment to sit shiva.
Joseph Silberstein, Raizel Glauber's brother, spoke on behalf of the family Monday in the hallway of their Clymer St. building.
"I'm the brother of Raizel. She was my little sister … I was at the hospital back and forth but there was nothing to do," a distraught Silberstein said, flanked by two men who didn't identify themselves.
"Whoever did not go through this can't even contemplate what this is, to lose a sister and her husband … and more, at once, so suddenly."
Silberstein said he had seen his tiny nephew before he died.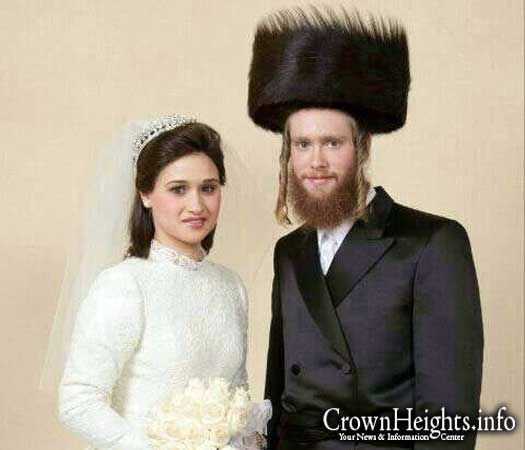 "I'd rather not get into it. I can't. This was God's will. We accept it. We have nothing to add … This is all we have to say. This is all we could possibly say, and nothing is going to change," the bereft man said.
The baby's remains will be taken to the medical examiner's office, Hasidic community spokesman Isaac Abraham told the Daily News. The newborn will be named, circumcised and buried with the parents.
"We in the community are going to demand that the prosecution charge these cowards with triple homicide, and nothing less," Abraham said, referring to the driver of the BMW.
He said the child's initial survival Sunday had given hope that the dead parents had left behind something the community could cling to.
"Even that has been taken away," Abraham said. "This couple leaves nothing behind."
"God is punishing me for my sins by taking away my daughter," Raizel Glauber's father, Yitzchak Silberstein, said in Yiddish at the couple's funeral Sunday afternoon, before the innocent infant's death.
"Nobody knows how this could happen."
The couple had called a livery cab to take them to Long Island College Hospital in Cobble Hill, according to cops and relatives.
The pair was riding in the back of the black 2008 Toyota Camry cab heading west on Wilson St. when a gray 2010 BMW sedan speeding north slammed into them about 12:30 a.m., cops said.
The couple had just married in January of last year.
"They were excited to start a family," said Sarah Gluck, Nachman's cousin. "They were always glowing."
It was unclear if the doomed couple's cabbie braked for the stop sign at the intersection. The BMW driver had no stop sign on Kent Ave., a main thoroughfare.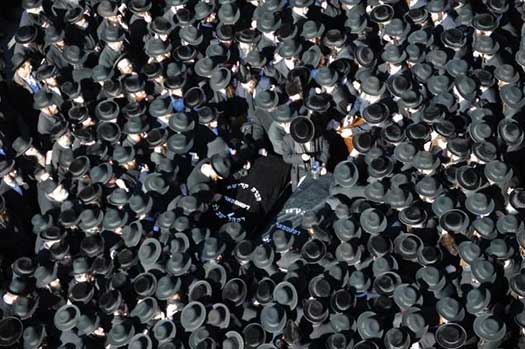 "I don't remember anything," said the livery cab driver, Pedro Nunez, 32, at his home in Brooklyn, after he was released from Bellevue Hospital.
Nunez, who was dazed and sedated after treatment for chest bruises, could not recall whether he ran a stop sign or if the Glaubers had been wearing seatbelts.
"They told me it was a hit and run. There's an investigation," he said.
Fernando Mateo, president of the New York State Federation of Taxi Drivers, defended Nunez.
"He is a driver with experience," Mateo said. "I'm sure he was doing his job the best he could."
The impact from the T-bone collision sent the livery cab spinning onto the median and ejected Raizel Glauber into the street, her pregnant body coming to rest under a parked tractor trailer.
First responders had to cut the roof off the Toyota Camry to extricate her husband and the livery driver.
Raizel Glauber was rushed to Bellevue Hospital in Manhattan, where doctors performed the C-section.
Nachman Glauber was taken to Beth Israel Hospital, where he died.
The livery cab driver was taken to Bellevue Hospital with bruising to the chest. He was treated and released Sunday.
The driver of the BMW, along with a passenger, abandoned their car and fled on foot, said police, who are feverishly searching for them.
The registered owner of the BMW, Takia Walker, 29, was questioned by cops Sunday morning. Investigators do not believe she was in the vehicle.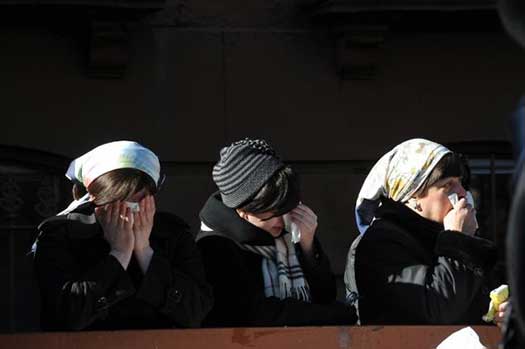 A woman who spoke through the door of Walker's Bronx apartment declined to comment.
Relatives of the couple had been expected to raise what was being called a miracle baby.
The infant was to be named after his dead father, who was studying at Rabbinical College of Bnei Shimon Yisroel of Shopron in Williamsburg, family friends said.
"God only takes the good people," said fellow student Moshe Meisels, 21. "I couldn't sleep the whole night knowing it was Nachman."
After his own marriage, Nachman Glauber organized fellow students to donate $100 each for a classmate's wedding, pals said.
"He had a golden heart," one classmate said. "Every day he came in with a smile."
Hundreds of Orthodox Jewish mourners packed the streets outside the Khal Yitav Lev synagogue for a funeral for both victims Sunday afternoon.
"Its a great tragedy for the community," Rabbi Zalman Leib Teitelbaum, speaking in Yiddish, told teary-eyed attendees.
"We have to hold on together and see what we can do to make things better. This is a very, very big tragedy."
Raizel Glauber's devastated family spoke tearfully of her.
"She was the crown of the family," said her brother, Yitzchak Silberstein. "We were sitting together last night and today she's gone."
The brother praised his sister's dead husband as well.
"We can all learn from him how to treat a wife," he said. "The way he treated her was special."
UJCARE, a Brooklyn Jewish advocacy and social service group, offered a $1,000 reward for information leading to the arrest of the driver.
Councilman Steve Levin, a Democrat who represents Williamsburg, called on the Department of Transportation to install a traffic signal at the intersection.