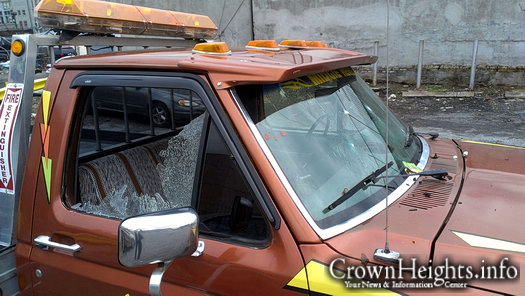 Earlier this week a group of 8 or 9 thugs vandalized two of Beis Rivkas school buses, and were captured on surveillance video celebrating. Yesterday an alert Shomrim volunteer spotted them vandalizing cars and with the help of the police they were apprehended. Turns out they are all around 13 years old.
The incident occurred at around 2:00pm on Thursday, a Shomrim volunteer was passing by Clove Road behind the Associated Supermarket, when he spotted a group of young kids sneaking around parked cars and trucks in the parking lot. A few of them were dressed in the exact same cloths as they were when captured on the surveillance video.
Watching them for less than a minute, the Shomrim volunteers spotted the kids picking up rocks and glass bottles and began pelting parked cars and trucks.
Their barrage damaged three parked cars and a tow truck and left glass strewn all over.
After calling for backup a call was made to the police as the kids fled towards Empire Boulevard, then towards the police precinct where they ran right into the hand of a community affairs police officer – who had also identified them based on the surveillance video – which was posted here on CrownHeights.info, and proceeded to stop them for questioning.
Turns out the little vandal's stand below 5 feet tall and range in age from 11 to 13 years old. When confronted about the vandalism of the school buses they quickly denied involvement, but snitched on others whom they claim did it.
The Shomrim volunteer identified 3 out of the 6 as one who had committed the acts of vandalism on Clove Road and due to their age an arrest could not be made, instead police took a 'juvenile report' and they were released into the custody of their guardians.