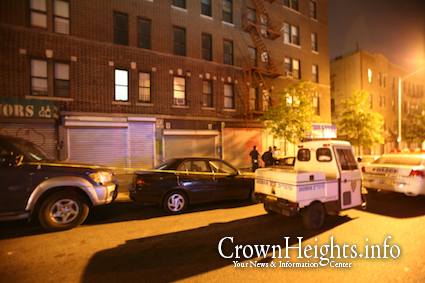 CROWN HEIGHTS, Brooklyn [CHI] — Thursday night at around midnight, a group of men walking down Albany Ave, between Empire Blvd and Leferts Ave, saw a Jewish teen lying on the floor, unconscious and bleeding from his head. They called Hatzalah and Shomrim, who quickly responded to the scene. Hatzalah revived the teen, who couldn't remember his name or why his head hurt.
More in the Extended Article

Witnesses said, they believe there were two Black male assailants who were hanging around the scene before the attack, and were seen leaving the scene with a bike looked like the one taken from the victim. There were no witnesses to the actual assault.
Hatzalah transported the teen to the Kings County Hospital, where he is scheduled to get a CT scan. Shomrim members who responded to the scene could not get a proper description of the assailants from the victim, from memory loss due the trauma he sustained.
The teen, which is 16 years old, was cycling up Albany Ave, when he was attacked and viciously beaten, to the point of unconsciousness. Hours later the teen still could not remember exactly what happened, or who did it to him, but did tell detectives that he was missing his cell phone, watch, wallet and the bike he was riding on.
Many detective were observed at the scene of the attack along with brass of the 71st precinct, who were investigating the incident, which as this time is still not clear what its being classified as.
In case of an emergency never hesitate to call 911 and Shomrim at (718) 774-3333 24/7