Seminary girls attending a Shiur. Illustration photo.
With just two weeks to the beginning of the academic year, a Seminary in Israel rescinded its acceptance of a young girl in a jarring email and based on vague accusations against her from "more than one very reliable source."
The email drew sharp condemnations for the manner and format in which the 18-year-old girl was summarily dismissed, this despite going through the application process, purchasing airfare and successfully applying for grants and tuition aid.
The potential student poignantly pointed out in her response that "I hope […] we can trust the Jewish teaching to believe in half [of what] you see and none [of what] you hear," and further proposed a probation period in which she can be personally observed by the director of the seminary. She responded "I hear you but as of now I am still standing with my decision."
The following is the email exchange (names omitted):
Initial Un-acceptance Email:
The Students Response: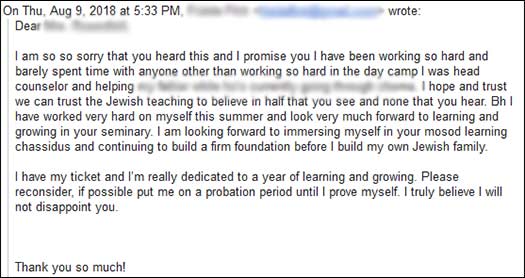 The Seminary's Followup: